CIVIC: INFORMATION EXCHANGE EFFORTS TO BE SHARED AT CONFERENCE
Program Aims to Create Detailed Picture of Need for Services
Wednesday, April 4, 2018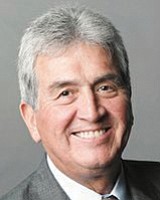 San Diego — An information exchange system that allows the San Diego region's social service agencies to share data to better serve those in need will be showcased at an April conference.
The Community Information Exchange (CIE) "really is kind of a technology ecosystem," said William York, acting president and CEO of 2-1-1 San Diego. "Part of our model is looking at how social services are contributing to wellness. When people are food insecure, where exactly are they food insecure? The same goes for transportation and housing. We're starting to answer those questions."
By crunching data, organizations will be better able to determine where social service needs are the greatest and which problems need more attention, he said.
Community Information Exchange Summit
April 16, 17, 2018
San Diego Marriott Marquis & Marina
333 W. Harbor Drive, San Diego
"Navigating the intersection of health and social services through information sharing and coordinated care."
Visit: http://211sandieg...
Summit in collaboration with:
2-1-1 San Diego
San Diego Health Connect
Live Well San Diego
Creating Picture of the Need
"Our goal is to put together a complete picture of an individual who is underserved, or less fortunate, or has a variety of challenges, so we can provide the best service we can," said Daniel J. Chavez, executive director of nonprofit San Diego Health Connect, a CIE participant.
The two-day Community Information Exchange Summit is expected to draw 250 participants from around the country to the San Diego Marriott Marquis & Marina on April 16 and 17. Similar information-sharing systems are under development around the country. Presentations at the summit will share examples of how communities can use data exchanges for planning purposes.
2-1-1 Services
The CIE was launched in August, said York. So far, 46 agencies are taking part in the network. The program is overseen by 2-1-1, which acts as a regional clearinghouse for people who seek services ranging from assistance with utility bills to help with drug and alcohol problems.
York stressed that no personal information will be gathered by the CIE without the permission of participating individuals. Guarding the public's privacy is a key element of the program.

The CIE has a $1 million budget for its first year of general operation, York said. Funded through a grant from the Alliance Healthcare Foundation and other investors, the program cost about $4.5 million to develop over several years. The 2-1-1 program was chosen to oversee the CIE because it already had developed relationships with numerous agencies in its role as a clearinghouse for social services.
Prev Next