BIOTECH: OPTUM360'S SYSTEM COVERS ALL THE BASES FOR VARIETY OF USERS
Turbocharging Electronic Health Records With AI
Tuesday, April 3, 2018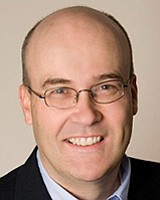 San Diego — A San Diego offshoot is deploying artificial intelligence against a crushing administrative burden: electronic health records.
With 35 employees and growing, Optum360 specializes in record automation, cutting down on tedious data input and inaccurate billing. Optum360 is a division of OptumInsight, itself part of Minnesota insurance behemoth UnitedHealth Group.
Artificial intelligence — computer systems taking on tasks normally demanding human intelligence — has recast industries, from manufacturing to software design. Hospitals are now embracing this technology, facing ever-larger amounts of data, such as medical devices and health records.
Optum360 is at the forefront. The company's core group of employees, based in San Diego, invented its patented artificial intelligence system. Optum360 San Diego started in 2010 with three clients, a number that's grown to 1,500, with the lion's share in the last few years.
"I think we're just scratching the surface," said Mark Morsch, the company's vice president of technology.
AI Implementation
Indeed, more than half of hospitals plan to use artificial intelligence in four years, up from 4.7 percent last year, according to a 2017 survey from Healthcare IT News and HIMSS Analytics.
Along with health records, the division's technology simplifies medical coding — converting reports into codes to ensure proper reimbursement for procedures. This area has generated most of its business.
Optum360's pitch for hospital CFOs:
"The CFO wants to make sure clinical documentation reflects the patient's condition seriousness because that's tied to a level of reimbursement," said Morsch. "If I didn't capture that this patient had cerebral edema, you've basically made a very sick patient look a lot less sick, which is going to mean that you're going to get reimbursed less for that patient."
Increasingly, the company tackles electronic medical records.
A selling point is a reduction in physician data entry that cuts into doctor-patient time — and has been linked to physician burnout. Another goal: prevent key data from slipping through the cracks.
Collecting Unstructured Data
Optum360's technology collects so-called unstructured data — critical medical documents or physicians' notes vulnerable to being lost or forgotten in health records.
The company does this through machine learning and natural language processing. The technology allows a computer to read, interpret and organize buried information.
For one client, Optum360 developed a backstop in instances like a car crash victim undergoing a CT scan for brain injury. While cleared of trauma, the radiologist notes the appearance of a suspicious mass in the right breast.
Prev Next