Lorin Stewart Named Chief Executive of USO San Diego
Tuesday, October 17, 2017
Lorin Stewart, most recently head of LEAD San Diego, is USO San Diego's new chief executive, the organization said Oct. 16.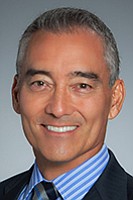 The USO, which was founded in 1941, is a civilian organization that supports America's military service members and their families. The San Diego chapter reported providing more than 260,000 instances of service and support and more than 34,000 hours of volunteer service in 2016.
Prior to his time as acting CEO at LEAD San Diego, which aims to develop leaders in San Diego and the northern Baja California region, Stewart was founding executive director of the San Diego Tourism Marketing District Corp., a nonprofit organization.
Stewart is a graduate of Santa Clara University.
USO San Diego operates the Neil Ash Airport Center lounge at San Diego International Airport, a center at 303 A St. in downtown San Diego, and a center at San Diego's Military Entrance Processing Station (MEPS) on Ruffin Road.
"The centers are hubs for military personnel and their families to congregate for meals, entertainment, relaxation and social interaction," Stewart said in the statement announcing his hiring. "These centers provide homecoming and deployment support and serve as the nexus for events that support our troops and their families."
The USO's activities are supported by community donations. Learn more at usosandiego.org.