Cordial Makes the Connections That Convince Customers to Buy
TECH: Messaging Platform Finds Ways, Means to Spur Action
Originally published May 18, 2017 at 2:01 p.m., updated May 18, 2017 at 2:01 p.m.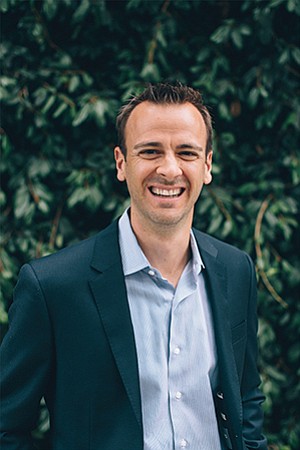 CORDIAL INC.
CEO: Jeremy Swift
Revenue: Undisclosed
No. of local employees: 20
Investors: Upfront Ventures, High Alpha venture studio, the founders
Headquarters: Downtown
Year founded: 2015
What makes the company innovative: Cordial offers software with a machine learning component that optimizes marketing messages
San Diego — Visit an e-commerce website and you are likely to get a computer talking back to you before too long.
And it will keep talking. A certain travel site knows that I once bought roundtrip airfare to Denver. Like the elephant in the proverb, it never forgets. Every so often, I will receive an email saying something like "Great Flight Values to Denver!"
Tech companies are continually fine-tuning the process of talking to customers. One of them is a downtown San Diego startup called Cordial Inc.
Cordial helps companies communicate with their customers in contextualized and personalized ways via email and mobile devices. The business plans to help with whatever comes next, whether it is Facebook Inc.'s Messenger feature or internet-connected devices.
In February, the business announced that it received $6 million in series A funding from Upfront Ventures of Santa Monica. Upfront partner Kobie Fuller led the round.
Cordial CEO Jeremy Swift and co-founders Adam Gillespie and Chris McGreal were once part of BlueHornet Networks Inc. — part of an earlier generation of email startups. (Swift and Gillespie had also been students at Point Loma Nazarene University.) Cordial's fourth co-founder is Chief Strategy Officer David Baker.
SaaS Model
Cordial operates under the SaaS model — software as a service. Its software sends out emails to customers' customers. As it does that, a machine-learning component of Cordial's software determines the most effective sales pitch. It accomplishes that through what marketers call A/B/n testing.
Say, for example, I look at sunglasses on an e-commerce website. So do a bunch of other prospective customers. Cordial's software will remember that and send out emails about sunglasses for sale — but those emails will not be identical.
• Some will feature two pairs of dark glasses.
• Another set will feature four pairs.
• Yet another set of emails will feature people wearing sunglasses.
Which version gets the most responses? Cordial will figure that out and optimize the email campaign according to the results of its test.
Previously, a marketing manager had to guess, Swift said.
Cordial's service might also vary the subject lines on an email, or vary the size of the discount offered.
Prev Next
Page 1 of 2.