Airport Begins Work on New Federal Inspection Facility
Thursday, May 18, 2017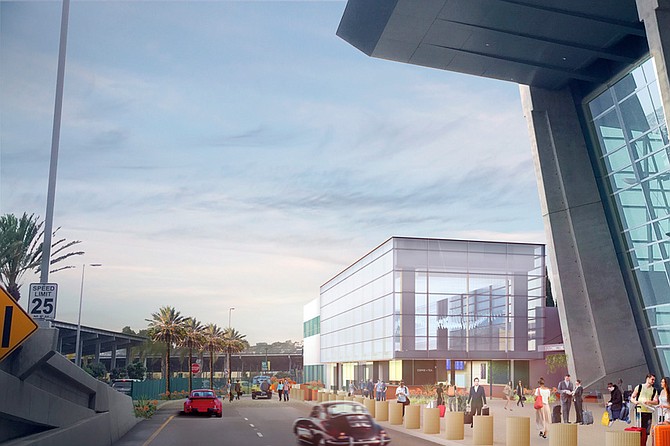 San Diego International Airport has broken ground on a previously announced, new $229.4 million federal inspection station, expected to open in summer 2018 at the west end of Terminal 2.
In a statement following a May 17 public ground-breaking ceremony, airport officials said the new customs facility is being designed to accommodate rising international passenger traffic resulting from recently added overseas flights.
New direct local service to Frankfurt was recently started by Germany's Condor Airlines, to be followed in early June by service to Zurich from Switzerland-based carrier Edelweiss Air. At that point, San Diego International will offer nonstop flights to and from a total of six countries.
The new facility will serve British Airways, Japan Airlines, Condor Airlines, Alaska Airlines, Southwest Airlines, Spirit Airlines and Edelweiss Air. Work on the facility will be led by Turner Construction Co. and PCL Construction Services Inc.
According to the San Diego County Regional Airport Authority, the airport has seen international arrivals grow from about 50,000 passengers in the early 1990s, to more than 300,000 in 2016.
"The economic impact of international flights is significant – about $432 million annually for the region," said April Boling, the authority's executive board chairman, in the statement. "But beyond the dollars and cents argument is the more personal one. A new federal inspection station will allow us to better accommodate people who travel great distances to visit friends, families and loved ones."
Officials said the facility is aimed at improving the processing experience for passengers with reduced wait times and a more welcoming environment. It will include a second baggage claim and more queuing space in the lower-level customs hall, along with the newest technologies introduced by the U.S. Customs and Border Protection agency.
The facility will replace the current one in Terminal 2 East. It will span approximately 130,000 square feet, compared to the 26,000 square feet in the current facility, while increasing the number of international gates from three to six.
Officials said passengers arriving on domestic flights that come into Terminal 2 West will see new temporary walls to shield construction. Passengers may also be directed to a different baggage carousel than the one to which they are accustomed.
The little-used terminal roadway at the west end of Terminal 2 is temporarily closed for construction, which officials said will not affect normal exiting of the airport property to Harbor Drive and Interstate 5.