LOCAL COS. SEE DEEP POOL OF INVESTMENT DOLLARS AND POTENTIAL ACCESS TO BIGGEST FOREIGN MARKET
Biotech Turns to China
Originally published May 15, 2017 at 10:17 a.m., updated May 15, 2017 at 10:17 a.m.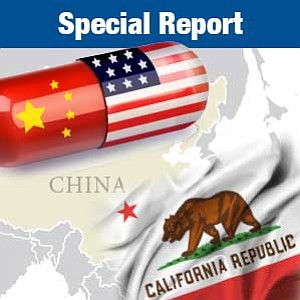 continued — Clarke added that the biotech boom in China has also churned out mature, homegrown life science companies in China, who are just now engaging in mergers and acquisitions, along with outside investments in technologies.
"Only recently did these knowledge-based industries upgrade to a point where they have capital available to acquire technology and expertise in pharma, biotech and health care," Clarke said.
Shanghai and S.D.'s Symbiosis
It makes sense why China is investing in biotech, but why San Diego biotechs? Lichter said it's simple: San Diego needs money, and companies here are more accessible than companies in other biotech hubs such as Boston and San Francisco.
"San Diego is one of the largest biotech hubs in the world, but there's a very small number of VCs here locally," Lichter said. "Companies here are happy to have investment partners."
From the local biotech's perspective, there's another bonus to teaming up with Chinese investors, said David Diamond, a CPA and business consultant at Mayer Hoffman McCann P.C. Diamond, who specializes in life sciences and foreign markets, said local companies often team up with international investors so that they have help navigating foreign markets.
That's exactly what BioNano did back in 2014, said Erik Holmlin, BioNano's CEO. The local genome mapping company capitalized on China's new interest in precision medicine, and strategically sought out Chinese partners.
"The genomics market in China has grown substantially, and we predicted that it was going to be a very large market for us," Holmlin said. "So we wanted Chinese investors who could help us navigate commercialization and other aspects of having a Chinese footprint."
Their investors delivered. About 35 percent of BioNano's current revenue comes from the Chinese market.
Dealing With Delays
But local biotechs have encountered some challenges while teaming up with Chinese investors. After speaking with several CEOs who sought investment in China, these three complaints consistently arose: language barriers, difficulty vetting investors, and delays, delays, delays.
"There can be enormous delays," Holmlin said. "By now, I could be a world expert on these delays, and I'm not happy about that."
Both Clarke and Holmlin said these delays often have to do with the strict regulations in place governing the expatriation of Chinese currency for overseas direct investment.
"For the past 10 years it was like an open faucet, but now the government is putting boundaries around that," Clarke said. "There have been quite a lot of murmurings about difficulties getting capital out of China."