LOCAL COS. SEE DEEP POOL OF INVESTMENT DOLLARS AND POTENTIAL ACCESS TO BIGGEST FOREIGN MARKET
Biotech Turns to China
Originally published May 15, 2017 at 10:17 a.m., updated May 15, 2017 at 10:17 a.m.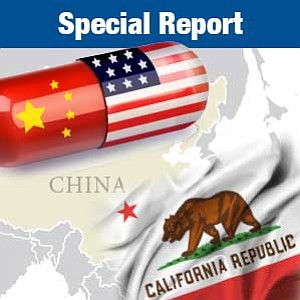 San Diego — Local biotechs are increasingly teaming up with deep pockets in China, tapping flush investor groups that only recently became safe bets for companies guarding trade secrets.
In the past 18 months, deal after deal has been announced with involvement from Chinese investors — a new trend for local life science companies that historically received very little cash from that part of the globe.
But it seems the tightening of intellectual property rules in China, along with loads of government incentives, has cultivated a boom in China's life science industry that's starting to bleed into San Diego's economy.
Most recently, Epic Sciences announced a $40 million financing round earlier this month with money coming in part from Shanghai-based Hermed Capital.
Before that, local VC fund Avalon Ventures joined forces with two Chinese funds — Lilly Asia Ventures and Vivo Capital — on an $18 million round for Fortis Therapeutics. And BioNano Genomics, which teamed up with Beijing's Legend Capital on their Series C in 2014, is now working with two Chinese investors (Legend and Ping An Ventures) on their current Series D.
"Chinese financing for biotech is new for San Diego; I've only noticed an uptick for the past one or two years," said Nikia Clarke, executive director of World Trade Center San Diego.
Clarke is perhaps unusually attentive to the trend. While getting her Ph.D. at the University of Oxford, her research focused on the large uptick of Chinese outbound investments into foreign markets. She said she was surprised to see very little Chinese investment in San Diego when she moved here in 2015.
"I later realized that San Diego's core industries are knowledge-based, and China only recently matured in those areas," Clarke said. "China's intellectual property laws have evolved considerably in the last five to seven years."
Now, she said, teaming up with Chinese investors is a less risky enterprise than it once was.
'Piles of Cash' in China
Chinese investors have historically been titans of industries such as real estate, forestry, and mining, said Jay Lichter, managing partner of Avalon Ventures. But now these investors are often depositing their cash into biotech venture funds.
"These are not your traditional LPs (limited partners) like you see in the U.S.," said Lichter, who met with several interested investors on a recent trip to China. "They're kings of rubber and industries that have nothing to do with life science or venture capital. But they have piles of cash and they want to diversify."
Prev Next