AMN Healthcare Services' Q1 Earnings Up 24%
Sunday, May 7, 2017
San Diego-based AMN Healthcare Services Inc. reported first-quarter earnings of $32 million, up 24 percent compared with the same quarter last year.
Quarterly revenue totaled $495 million, up 6 percent over the first quarter of the prior year.
Revenue from the company's largest division, travel nurse staffing, was up 9 percent year over year; its allied solutions segment saw a 14 percent increase.
AMN, the nation's largest medical staffing company, said it expected to take in revenue of $486 million to $492 million in the second quarter, the equivalent of 7 percent to 8 percent year-over-year growth.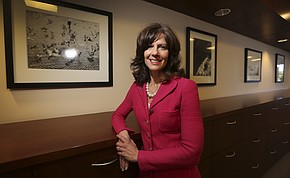 "With a positive outlook for 2017 and favorable long-term macro drivers providing us confidence in our business, we will continue to make investments that enable us to extend our leadership position into the future," said Susan R. Salka, AMN's president and chief executive officer, in a May 4 statement.
AMN assists health care facilities with staffing, including executive recruitment and vendor management.