Carlsbad Approves Mixed-Use Project Near I-5
Sunday, March 12, 2017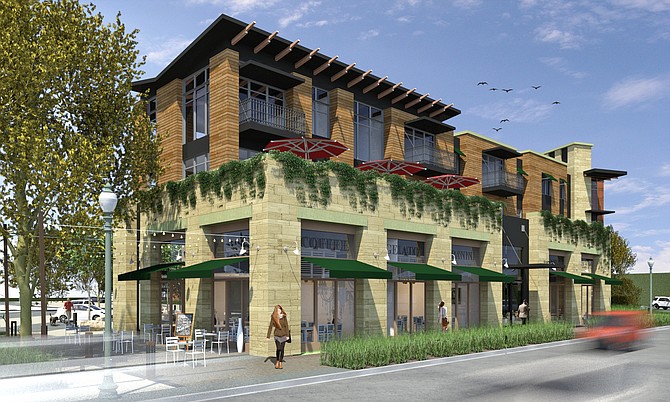 The Carlsbad City Council recently approved plans for Carlsbad Village Lofts, a $30 million mixed-use residential project being developed near Interstate 5 by San Diego-based Gerber Group.
According to the project's designer, architect AVRP Skyport Studios of San Diego, the development is planned for a 2.23-acre parcel at 1044 Carlsbad Village Drive. It will include 106 apartments, including 16 affordable units, approximately 9,500 square feet of ground-floor retail, a public plaza and 186 parking spaces.
Common-area amenities will include a fitness center, rooftop terrace with vegetable gardens, barbecue areas and a communal conference room. Plans also call for sustainable features including secured bike storage, electric vehicle charging stations, and transportation screens broadcasting up-to-date schedules for transit options including the Coaster, Amtrak, bus and ride-share programs.
Completion is expected in mid-2019. According to the city, the project is planned for a site currently housing a Denny's restaurant and a vacated former Chevron gas station, with the Denny's to be relocated.
Gerber Group founder Evan Gerber said the city's approval of the project followed three years of public outreach, in order to incorporate community input. AVRP Skyport officials said the project is designed to serve as a pedestrian-friendly gateway to the village area, connecting Carlsbad Village Drive to Grand Avenue.
"Carlsbad Village Lofts will transform a blighted site into an invigorated place that encourages walkability and bikability," AVRP Skyport CEO Doug Austin said in a company statement. He added the project will create an improved street facade with widened sidewalks and new lighting and landscaping.