Kratos to Premiere Two Ultra-Fast Drones at Air Show
Tuesday, June 13, 2017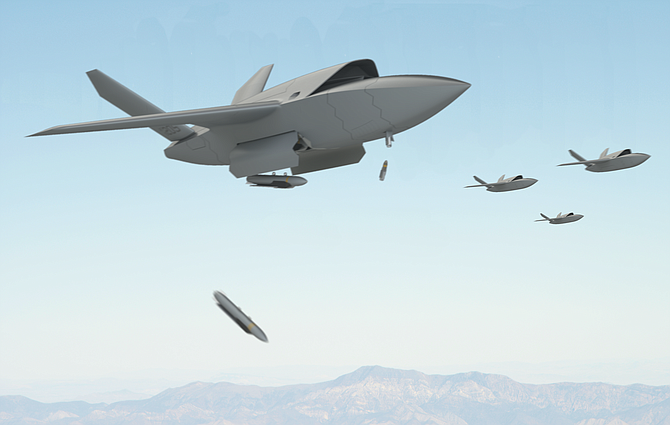 Kratos Defense & Security Solutions Inc. plans to introduce two jet-powered unmanned aircraft at the Paris Air Show, scheduled to run June 19-25.
The aircraft are the XQ-222 Valkyrie and the UTAP-22 Mako drones. Kratos (Nasdaq: KTOS) described the aircraft as stealthy, highly maneuverable and able to fly almost as fast as the speed of sound. They can perform like fighters and may one day function as wingmen to manned aircraft in contested airspace. A statement from Kratos mentioned such aircraft could one day fly with manned U.S. Air Force assets such as F-35 or F-22 fighters.
Both the Valkyrie and the Mako are part of what the Air Force Research Labs calls low-cost attritable aircraft, or LCAAT for short. The 30-foot-long Valkyrie sells for roughly $3 million while the Mako sells for roughly $2 million.
"The Mako and Valkyrie represent an entirely new category of UAVs" or unmanned aerial vehicles, said Kratos CEO Eric Demarco in a prepared statement released June 13. "Thanks to our target drone expertise and our in-house research and development team, we have been able to combine high performance with low cost in fully functioning aircraft. And we did it in less than two years, not decades."
Kratos got a place in the unmanned systems market with its 2012 purchase of Composite Engineering Inc. of Sacramento. The company is based in San Diego's University City neighborhood.
The Valkyrie, which has been in development almost a year, is scheduled to make its first flight in the spring of 2018. The Air Force awarded Kratos a contract to develop an LCAAT in July.
The Mako has already made its maiden flight and is scheduled for more test flights in June, July and August. During the planned flights, it will carry new sensors and team up with manned aircraft.
Both models could carry weapons systems or surveillance gear, Kratos said.