New SeaWorld San Diego Coaster Set to Open in 2018
Tuesday, January 3, 2017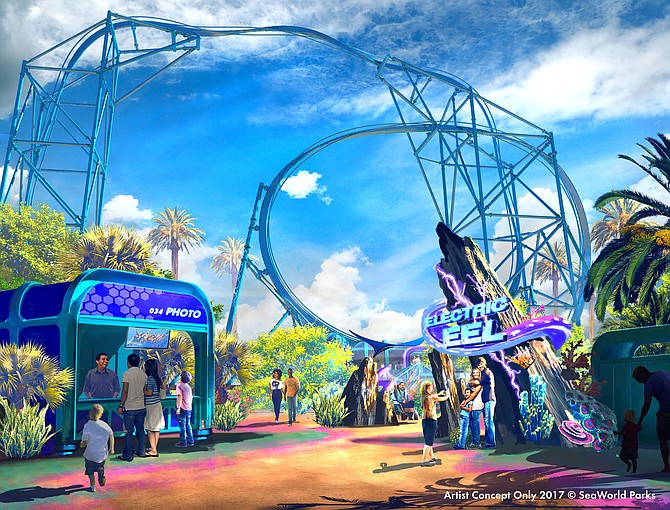 SeaWorld San Diego has announced plans for Electric Eel, a new looping roller coaster with multiple launch elements, slated for a summer 2018 opening.
Officials did not divulge expected development costs for the coaster, which will be built near its Journey to Atlantis attraction on the eastern side of the park. Officials said Electric Eel,, set to follow the opening of three other large attractions in 2017, will cap the Mission Bay park's biggest 24-month growth spurt since its 1964 opening.
In a statement, SeaWorld San Diego Park President Marilyn Hannes said the new coaster "will give riders the rare opportunity to feel what it's like to move like an eel as they twist and flip along nearly 900 feet of undulating track."
The coaster will have "launch experiences" that will propel riders forward and backward as they speed through the ride's station house, accelerating to more than 60 miles per hour in seconds. Riders will then rocket skyward nearly 150 feet, braving an inverted "heartline" roll and a twisting loop for a feeling of "airtime" as riders crest the loop before returning to the station.
SeaWorld San Diego previously announced a summer 2017 opening for Ocean Explorer, an expedition-themed attraction with animal viewing areas and multimedia elements, currently under construction. Also slated to open this summer are Orca Encounter, a new education-oriented killer whale habitat; and Electric Ocean, a new night-time entertainment attraction.
SeaWorld San Diego recently discontinued its longtime orca performance shows, as Orlando-based parent company SeaWorld Entertainment Inc. deals with attendance declines and other fallout from the 2013 documentary Blackfish, which raised concerns about the treatment of captive killer whales.
SeaWorld Entertainment previously announced that it plans to invest $175 million in new shows and attractions nationwide in 2017, among the biggest one-year capital spending tallies in the theme park operator's five-decade history.
"The future is bright at SeaWorld and we remain committed to long-term investment in the park," Hannes said in the SeaWorld San Diego statement on Electric Eel.
The new coaster will be built on approximately two acres on the park's eastern side, near Ocean Explorer. It will be the third coaster-type ride at the Mission Bay venue, following the previous openings of Manta and Journey to Atlantis.