Time to Cultivate Talent for Future STEM Jobs
Originally published February 9, 2017 at 3:24 p.m., updated February 9, 2017 at 3:24 p.m.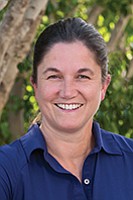 San Diego — "What do you want to be when you grow up?"
It's a question we ask children from the time they're capable of responding. Their answers tend to reflect some of the professions they've observed, either on TV or in real life. Often times, it will involve some kind of cool outfit or hat — or maybe the novelty of fame. A movie star. A baseball player. A ballerina. The president.

But I've noticed it's extremely rare to hear kids respond with a job that's in soaring demand, pays really well and involves helping to solve some of the world's most pressing challenges in health, energy or the environment. With the exception of the clichéd image of a scientist in a white lab coat holding a test tube (and to be fair, many scientists do wear lab coats and use glassware), kids have a hard time envisioning cool jobs that involve science, technology, engineering and math.
Yet, these are the jobs that will drive our economy here in California and introduce innovations that are needed around the world. They are jobs that require creativity, problem-solving and teamwork.

San Diego County technology companies — both large and small — need to pledge their support to inspire today's students to become tomorrow's innovators. Although we have no way of knowing for certain what the hottest jobs will be in 10 years and beyond, we can make an educated guess based on today's data that STEM careers will be leading the pack.
For instance, from 2014 through 2024, the Bureau of Labor Statistics projects a 34 percent increase in jobs for statisticians, 29 percent increase for genetic counselors, 27 percent increase for forensic science technicians and a 23 percent increase for biomedical engineers. Double-digit growth also is forecast for software developers and computer system analysts.
Battle for Talent
Here in California, we see and feel this demand clearly. The life science industry alone employs more than 280,000 people, according to the 2016 California Workforce Trends report published by Biocom Institute and the California Life Sciences Institute. Companies also say they struggle to find top talent locally or even nationally; 67 percent of life science company executives surveyed for the report said they use the H1B visa program to bring in talent from other countries.
These are high-paying jobs. San Diego's life sciences employees earn, on average, more than $134,000 annually — more than any other industry in San Diego County, according to the most recent data from the San Diego Regional Economic Development Corp..
Prev Next
Page 1 of 2.