Roche Buys San Diego Drugmaker Ignyta for $1.7 Billion
Originally published December 31, 2017 at midnight, updated December 31, 2017 at midnight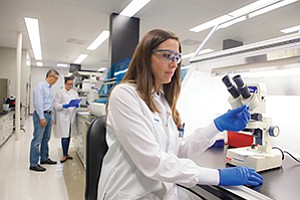 San Diego — Swiss health care giant Roche Pharmaceuticals will buy San Diego-based drugmaker Ignyta Inc. in an all-cash deal valued at $1.7 billion, the companies said Dec. 22.
The agreed upon price of $27 per share represents a premium of 74 percent on the biotech's closing stock price the day prior, according to the companies.
The pharma giant is betting on Ignyta's cancer drug, entrectinib, which is intended to treat patients with rare cancers. The drug is in a phase 2 clinical trial.
"Cancer is a highly complex disease and many patients suffer from mutations which are difficult to detect and treat," said Daniel O'Day, CEO of Roche Pharmaceuticals. "The agreement with Ignyta builds on Roche's strategy of fitting treatments to patients and will allow Roche to broaden and strengthen its oncology portfolio globally."
The boards of both companies have already approved the deal, expected to close in the first half of 2018.
"Ignyta has been singularly focused on developing precisely targeted therapeutics guided by diagnostics for patients with rare cancers," said Jonathan E. Lim, the company's cofounder and CEO. "We are excited that Roche, the global leader in both oncology and personalized healthcare, recognizes this powerful approach and shares our passion for advancing entrectinib for the benefit of patients."
Ignyta said it will continue its operations in San Diego.