DINING: SALE OF QDOBA TO FOCUS CO. AND INCREASE VALUE
Jack Aims for Less Capital-Intensive Business
Originally published December 31, 2017 at midnight, updated December 31, 2017 at midnight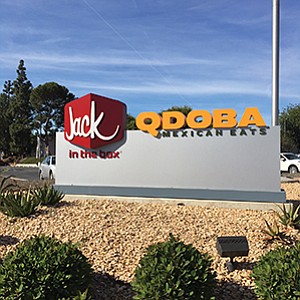 San Diego — With the sale of its Qdoba fast-casual Mexican food chain to Apollo Global Management LLC now underway, Jack in the Box Inc. has set Jan. 9 as the date to deliver its financial outlook for 2018.
Jack in the Box (Nasdaq: JACK) is now a company with a single, clear business model rather than a mash-up of two models. As a result, analysts can better rank Jack in the Box among its peers in the quick-service restaurant industry.
Some analysts see challenges ahead. In a Dec. 20 research note, Jefferies LLC analyst Alexander Slagle lowered his price target for Jack in the Box stock from $120 to $100. He said he expected the company to earn $4.22 per share in fiscal 2019, predicting continued inflation in food and labor costs. Even so, Slagle said Jack in the Box can "remain relevant" in the quick-service restaurant space.
It's a competitive space, and Jack in the Box is now under increased scrutiny from activist investors such as Jana Partners LLC. As a result, the Qdoba sale might not be Jack's last change in 2018.
Jack in the Box will give its financial forecast at one of the largest investment gatherings of the year, the ICR Conference in Orlando, Florida.
The corporation announced in May that it was exploring options for Qdoba, and said operating two business models was hurting the company's valuation. It said Dec. 19 that it had inked a definitive agreement to sell Qdoba to Apollo (NYSE: APO) for $305 million in cash. The deal is expected to close by April, and Jack in the Box said it expects to use proceeds to retire debt.
Qdoba operates and franchises some 700 Qdoba Mexican Eats restaurants. It is the second largest fast-casual Mexican food brand in the United States.
Jack in the Box put a lot of thought into its deal to sell Qdoba, CEO Lenny Comma said in a statement.
"For the past several months, we have worked closely with our financial advisers and evaluated various strategic alternatives with respect to Qdoba, including a sale or spin-off, as well as opportunities to refranchise company restaurants. Following the completion of this robust process, our board of directors has determined that the sale of Qdoba is the best alternative for enhancing shareholder value and is consistent with the company's desire to transition to a less capital-intensive business model," Comma said Dec. 19.
Jack in the Box bought Qdoba in 2003. Under its ownership, Qdoba grew from 85 locations in 16 states with $65 million in sales to more than 700 locations in 47 states and Canada, with sales of more than $820 million.
Apollo, based in New York, has $242 billion in assets under management and bills itself as an alternative investment manager. Its restaurant and hospitality businesses include Chuck E. Cheese's restaurants, AMC Theatres and Caesars Entertainment. The private equity fund did not respond to an inquiry about whether Qdoba's headquarters would remain in San Diego.