Believe Campaign Brings Special Party to Very Special Princess
Originally published December 31, 2017 at midnight, updated December 31, 2017 at midnight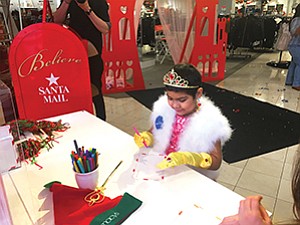 San Diego — Wishes Across America, which is connected to the Macy's Believe campaign benefitting Make-A-Wish Foundation, announced that during Macy's 10th annual Believe campaign a wish was granted to special young girl.
Six-year-old Scarlett, diagnosed with leukemia, loves her name and the color red, and has always wanted to host a big and red-themed outdoor party. Early in December 2017, there was a surprise reveal where she learned that her wish would be granted. At this party, she imagined herself in a big red dress with everything at the party in red — décor, food, games and entertainment (clowns, bounce houses) — everything. With the help of Make-A-Wish San Diego and Macy's, Scarlett got her wish, and hosted her big and red-themed outdoor party.
Included in the surprise was her very own princess castle with red-themed features and decorations, and Scarlett's favorite stations — one to get her nails done, another to get her makeup, one with her favorite candy and one with a huge cake. Fun music and glitter confetti also made an appearance. 
Scarlett also dropped off her own letter to Santa Claus in the Macy's Believe mailbox. Each year, Macy's Believe campaign invites "Believers" of all ages to write a letter to Santa and mail it at the big red letterbox at any local Macy's store or online at macys.com/believe. For every letter received in store or online, Macy's donates $1 to Make-A-Wish, up to $1 million, to help grant the wishes of children with critical illnesses Visit wish.org/donate.
• • •
The Jewish Community Foundation San Diego announced its 50th Anniversary Celebration Brunch at the Hilton La Jolla Torrey Pines, "Celebrating the Past. Inspiring the Future." At the event, its past board chairs were honored and recognized for their outstanding leadership and their role in building the foundation. Board Chair Leo Spiegel welcomed Marjory Kaplan to the stage and honored her with distinction as president/CEO of the foundation for more than 20 years.
More than 400 community members, plus elected officials, listened to Beth Sirull, the foundation's new president/CEO and Miriam Katzin and Jerome Katzin presidential chair, present the vision for the future and share the foundation's new platform for enhancing philanthropy. Impact investing and the new donor portal JCF Connect for grant making and fund management are just two of the ideas supporting the value that every one of us has the power to change the world. Visit jcfsandiego.org.
• • •
The Living Coast Discovery Center announced that its long-time supporter and South Bay neighbor, Marine Group Boat Works, made a $21,000 donation to the nonprofit zoo and aquarium on San Diego Bay in Chula Vista. The funding marks the seventh consecutive year that the locally owned boat and super-yacht refit and repair facility has stepped forward to provide financial support for the Living Coast, with total contributions of more than $160,000 for coastal wildlife, education and sustainability programs.
Ben Vallejos, executive director of the Living Coast Discovery Center said Marine Group Boat Works' "commitment of time, talent and financial support goes a long way in helping us serve the San Diego region with a unique coastal wildlife experience."
Marine Group CEO Herb Engel serves on the Living Coast's board of directors, as well as the planning committee and as a host of Wine on the Waterfront.   "As a neighbor, Marine Group Boat Works has had the pleasure of watching the center grow," Engel said. " We hope others will join us in supporting the center and the amazing things they do."
The company's director of communications, Leah Yam, also lends pro bono support to the center's development and marketing efforts. Visit: thelivingcoast.org/.
Send Kudos/Giving items to sglidden@sdjb.com.