2017 NEWSMAKERS
2017 Newsmakers: Hemker Exits After Huge Changes at Palomar Health
Thursday, December 28, 2017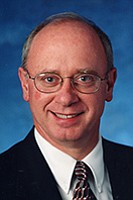 San Diego — Robert Hemker, long an architect of Palomar Health District's financial plans, retired in November.
This capped off an eventful year for Palomar, which serves Escondido, Poway and additional inland communities.
In 2014, Hemker was appointed to the top spot, after being Palomar's chief financial officer for 13 years.
He was a key player in expansion plans, including the opening of Palomar Medical Center in 2012, which put Palomar in a precarious financial position.
But an apparent turnaround picked up steam in the last year or so.
As of spring, Palomar has lifted its annual operating income by tens of millions of dollars during the last four years, and said it is on track to finish the current fiscal year with enough cash on hand to cover operations for 131 days — a 70 percent improvement since it ran afoul of a covenant with bondholders by dipping below 80 days' worth of cash in 2013.
Much work lies ahead, as the district reported it was behind schedule on a consolidation plan designed to save as much as $20 million per year.
It's also working to sell the 14-acre Palomar Hospital property in downtown Escondido, after a sale fell through in May.
Also up in the air: a nurse contract. This summer nurses at Palomar said they remain far apart with management in negotiations of a new four-year contract and that a strike is possible. They're now seven months into working without a contract.
Diane Hansen, previously Palomar's executive vice president of finance, succeeded Hemker on an interim basis. A search for a replacement kicked off in November.