2017 Newsmakers: Nervana's Deep Learning Chip Holds Promising Potential
Wednesday, December 27, 2017
San Diego — It has been a long road from a concept to a piece of silicon, but Naveen Rao seems to have successfully negotiated the turns.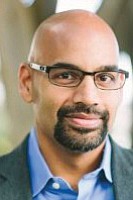 Rao co-founded Nervana Systems in 2014 to build a microchip for deep learning. Midway through the journey, Intel Corp. got involved, buying the San Diego startup in August 2016 for a reported $408 million. The Silicon Valley company sped its new acquisition toward the goal of getting a chip out the door and into the market, setting the end of 2017 as its deadline.
The new chip's architecture is very different from the Intel product at the center of the typical laptop. "Nervana started with the idea that we can engineer better solutions for computation by bringing together computer engineering, neuroscience and machine learning," Rao wrote in a blog post.
From the very beginning, the Intel Nervana Neural Network Processor was designed for artificial intelligence.
Rao continues to lead the development team, and several generations of artificial intelligence products are planned.
The new family of processors might help autonomous vehicles safely negotiate our roadways, Intel chief Brian Krzanich said in an October announcement. It might improve ad targeting on social media, pinpoint areas in danger of hurricanes, or help doctors diagnose diseases more accurately. The executive went as far as to say that, in advancing medical research, the processor might make the "impossible" possible.
The introduction of a powerful new product is certainly something that Rao and his Nervana Systems co-founders — Amir Khosrowshahi and Arjun Bansal — can toast on New Year's Eve.