2017 Newsmakers: High-End Properties Rise in Downtown
Thursday, December 21, 2017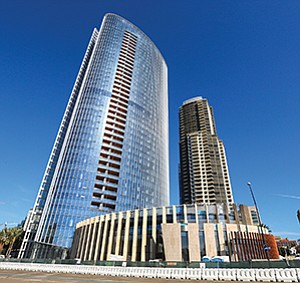 San Diego — Downtown San Diego's housing market headed for the stratosphere in 2017 with construction of Pacific Gate — dubbed by its developers as the city's first "super prime" condo complex.
What makes the 41-story Pacific Gate super prime is the price tag for its 215 condominiums — up to $4.2 million each — and a host of amenities for its residents, from a yacht they can reserve for a cruise around San Diego Bay to a choice of luxury cars at their disposal.
There's also an indoor dog park and a 24-hour staff, including a concierge, all of which is meant to give Pacific Gate the feel of living in a five-star luxury hotel.
Besides the purchase price, residents must pay monthly association fees of $1,453 to $1,739 per month.
Overlooking the bay at 700 First Ave., Pacific Gate proves that San Diego is ready for the kind of high-end, luxury residences more typically seen in New York and San Francisco, said Bemi Jauhal, director of sales and marketing at Bosa Development, the developer of Pacific Gate. Bosa is building another 36-story condo tower, dubbed Savina, also in downtown. While Pacific Gate is expected to come online early next year, Savina is slated to be completed by the end of 2018.
"Yes, we are seeing a market for luxury residences in downtown San Diego. We have already sold through two-thirds of the building and our buyers are excited to move into San Diego's first super prime residences," Jauhal said. "With nearly two decades in San Diego, Bosa has seen dynamic changes and growth in the city, which is now among the top urban waterfront destinations in the world."
Not to be outdone, apartment builders upped the ante with the addition of some high-end downtown towers, such as Alexan ALX, a 19-story, glass-enclosed building at 14th and K streets developed by Trammell Crow Residential.