Emmes Renovating Lobby, Plaza at Downtown Tower
Wednesday, August 16, 2017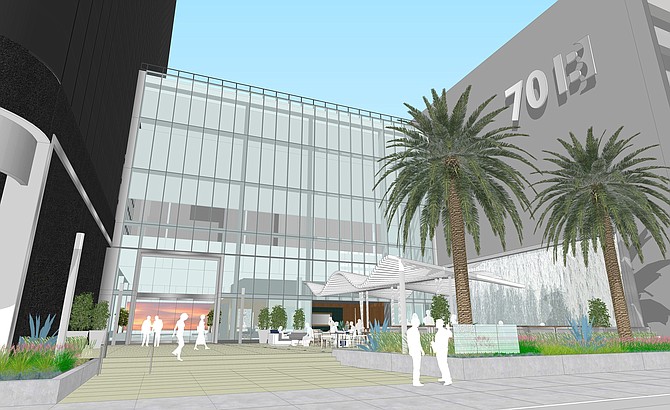 Property owner Emmes Realty Services of California LLC has begun a multimillion-dollar renovation of the Seventh Avenue plaza and atrium lobby at its office tower at 701 B St. in downtown San Diego.
A company statement said Emmes to date has spent more than $7 million on capital improvements since taking ownership of the building in 2014, and expects to spend a similar amount over the coming year on the newest improvements.
The renovation will include removal of an existing angled glass wall, which officials said currently inhibits views into the lobby due to its dark reflective glass. A new straight vertical glass wall will be constructed, nearly doubling the size of the outdoor amenity plaza along Seventh Avenue.
Emmes officials said the new lobby when completed will have a cascading water wall and spaces for formal and informal gatherings. Emmes Asset Manager Mark Kuske said the overall goal of the renovation is to make the property more of a destination location for a wide range of tenants.
Project designer Kevin Leslie of LPA said the new lobby will be activated throughout the workday and during evening hours.
The project follows a prior renovation of the building's B Street entrance. The property is one of four office towers that Emmes owns in downtown San Diego.