MEN'S T-SHIRTS ARE SELLING IN AN INCREASINGLY TOUGH MARKETPLACE
Co. Found an Opening in Subscription Box Trend
Originally published August 10, 2017 at 1:42 p.m., updated August 10, 2017 at 1:42 p.m.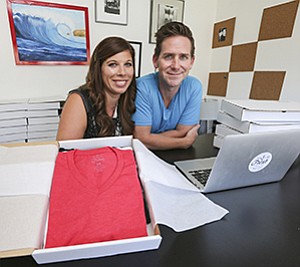 Trying for a Better Fit With the Environment
Environmentalists might cringe at the thought of disposable clothing that needs to be replaced on a monthly basis. So we asked Fresh Clean Tees if they considered their business part of the "fast fashion" industry.
Melissa said she's aware of the problem, and recently wrote a blog post on how to "upcycle" old and unwearable T-shirts.
Matthew said they've considered launching sustainability programs; for example, discounting return shipping for customers to send in old T-shirts to be recycled or donated, although no programs are in place thus far.
"It's a super important issue, and it's one of our priorities moving forward," Matthew said.
The Subscription Box Shopper
The Subscription
Box Shopper
Ages 25-44
Higher income
Higher education
Female
Source: HitWise
San Diego — Matthew and Melissa Parvis jumped on the subscription box trend just in time to claim a sliver of an increasingly fragmented pie...