Richman Group Begins Work on $100M Downtown Mixed-use Development
Monday, April 10, 2017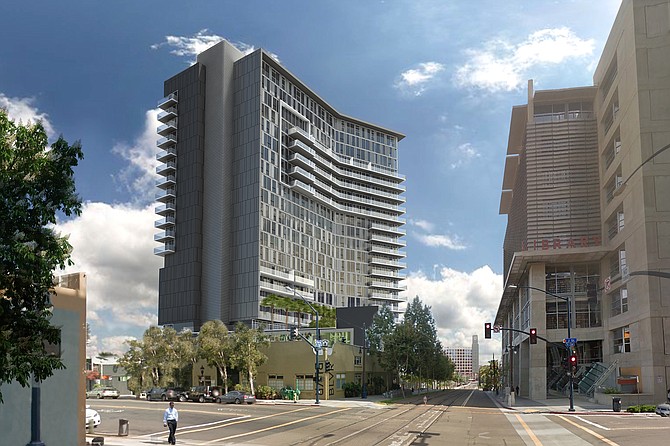 Developer The Richman Group of California LLC has begun construction on K1, a new mixed-use apartment tower in downtown San Diego with an estimated development cost of more than $100 million.
A Richman Group statement said the 23-story project, being built across from the San Diego Central Library in East Village, will have 222 apartments and 7,000 square feet of ground-floor commercial space, with parking for 317 vehicles.
There will also be a low-rise building, called The Sliver and designed by local architect Rob Quigley, which will have two penthouse residences, a restaurant and urban garden. Quigley also designed the Central Library, which opened in 2013.
Completion of K1 is expected in early 2020. The 422,793-square-foot development will occupy most of the block bounded by 13th, J and K streets, less than three blocks from Petco Park.
The project will also include a two-story "Sky Lounge" on the 19th floor. There will be a resort-style pool area with spa and fire pits on the fifth-floor podium level, with an adjoining two-level recreation center with its own lounge, demonstration kitchen and gym.
Level 10 Construction is the general contractor, with architectural design by Los Angeles' DesignARC LA Inc. and Large Architecture, as well as San Diego's Rob Wellington Quigley.
K1 is The Richman Group's second major downtown San Diego residential project to get underway, following the May 2016 ground-breaking for the company's F11, a seven-story mixed-use residential development. That project, with 99 apartments and retail space, is scheduled to open in mid-2018 at F Street and 11th Avenue in East Village.
Based La Jolla, The Richman Group of California has several apartment projects in the works throughout the state. The firm is part of Connecticut-headquartered The Richman Group, with 15 regional offices in 49 states, Washington, D.C., Puerto Rico, the Virgin Islands and Guam.