TECH: CO.'S GOAL IS TO CREATE PET HUB AND MONETIZE TRAFFIC
Profits Expected at Tail End of App
Originally published April 3, 2017 at 8:25 a.m., updated April 3, 2017 at 8:26 a.m.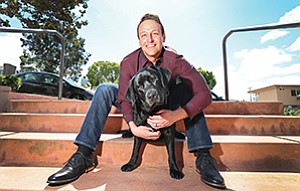 PUPTIMIZE INC.
Co-founders: Rob Steinberg and D.J. Todd; there is no CEO
Revenue: The business has just started to collect revenue
No. of local employees: Two
Investors: Steinberg, Todd and angel investors
Headquarters: San Diego
Year founded: 2015
Company description: Puptimize makes a dog-training smartphone app, which company co-founders hope to turn into a wider information hub for dog owners
San Diego — At 1½ years old, Nessie the black Lab is a 60-pound bundle of energy...