Energy Storage System Looks to Leave Grid in Backup Role
ENERGY: Co. Designs Software, Hardware for Battery-Based System
Originally published October 27, 2016 at 9:36 a.m., updated October 27, 2016 at 9:36 a.m.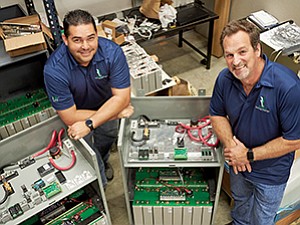 San Diego — In a reflection of the opportunity facing the home energy storage industry, a San Diego battery manufacturer formed in August says it has signed five contracts totaling more than $4 million and is already planning an expansion to meet domestic and international demand.
The company, iDemand Energy Storage, or iDES3, outfits lithium iron phosphate batteries the size of a cabinet to help residential, commercial and industrial customers use their rooftop solar or other renewable energy systems to disconnect from the electrical grid for anything but backup power.
Founded by two local contractors — solar system installer Walter Ellard, the company's president, and mechanical engineer Raymond Trejo, senior vice president — iDES3 is finalizing five additional contracts worth $6 million that would keep it busy for at least the next year. It says it is awaiting an investor for a potential $100 million deal to set up a 10-megawatt photovoltaic solar and battery system that would power a casino in Cambodia.
Big Potential
Observers watching the boom in rooftop solar see tremendous potential for companies that set up energy storage systems. A recent report by Boulder, Colo.-based Navigant Research estimated the global market for residential systems alone increasing from 94.9 megawatts this year to nearly 40 times that amount by 2025.
"Energy storage continues to be among the largest growth opportunities in the clean-tech industry," Jason Anderson, president and CEO of nonprofit advocacy group Cleantech San Diego, said by email. "As San Diego and the world continue to invent new ways to maximize energy output from clean resources, of course a new challenge arises of how and where to store that clean energy and tap into it later."
Michael E. Firenze, CEO at Poway's CleanSpark LLC, which designs behind-the-meter battery systems also known as "microgrids," said he is particularly encouraged by the number of people looking at photovoltaic solar systems and asking for quotes to add battery storage.
"This is a fantastic leading indicator into the battery ... market to come," Firenze said by email.
Custom Jobs
Much of iDES3's work to date has involved commercial and industrial users. As with residential customers, such jobs begin with a detailed assessment of the client's energy demands. Once it determines the need, iDES3 designs hardware and software centered around raw batteries it buys from a Corona company it declined to identify.
Prices vary according to the battery's capacity. Ellard, iDES3's president, said the company's energy storage systems average about $1.25 per watt-hour, and that they come with a 25-year guarantee.
Prev Next
Page 1 of 2.