Panel Addresses Missed Opportunities in San Diego Workforce
WORKFORCE: Low Participation of Women, 'Disconnected Youth' Cited
Originally published October 20, 2016 at 4:01 p.m., updated October 20, 2016 at 4:01 p.m.
San Diego — Local housing costs remain as intractable as ever, but at a recent brainstorming session on the region's economic hurdles, San Diego business people proposed hopeful strategies for turning around the underrepresentation of women in the workforce and the relatively large share of young people not working or going to school.
All three challenges have emerged in research pinpointing areas where the local economy compares unfavorably with nine competing metropolitans, including Denver, Austin and Seattle. San Diego was found to have the smallest concentration of female workers (44 percent), the second-lowest overall affordability and the fifth-largest portion of "disconnected youth" — at 12 percent.
Several dozen business leaders convened Oct. 13 by the San Diego Regional Chamber of Commerce, whose foundation put out the recent research, engaged with a panel of speakers who put forward ideas for tackling the challenges, or conversely, making the most of related opportunities.
Workplace Inflexibility
A robust discussion followed comments by Angela Titus, executive vice president of the San Diego nonprofit Jacobs Center for Neighborhood Innovation, on how businesses can promote greater participation by women — and how women themselves can improve their chances of professional success.
Titus cited workplace inflexibility as a primary reason women drop out of the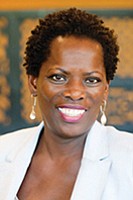 mainstream. Although she said the results can be positive — some women leave to start their own business, or they join the "gig economy" of independent contractors doing short assignments — too often the reason is companies don't respond well to a mother's child-care needs.
Sometimes it's a cultural problem of male leaders undervaluing input from women employees, she said. She advised women to emphasize their relationship-building strengths, seek out opportunities to mentor younger women and speak up for themselves more loudly.
Military Involvement
Military veterans face a similar challenge, said speaker Sean Mahoney, executive director of Zero8Hundred, a San Diego nonprofit helping vets transition to civilian life. While former military personnel tend to make good leaders in a business, they're not good at "blowing their own horn," he said.
Awareness Gap for Youth
Another focus of the meeting — disconnected youth, defined as teenagers and young adults neither working nor in school — opened with the statistic that 54,000 San Diegans find themselves in this category.
Speaker Peter Callstrom quickly turned the tables by applying a new label, ditching the "disconnected" and calling them "opportunity youth." The president and CEO of San Diego Workforce Partnership, a local job-training coalition, Callstrom appealed for greater use of apprenticeships, particularly in the areas of pipefitting and other construction trades where the number of job candidates lags behind openings.
Prev Next
Page 1 of 2.