Local Biotech Kurin Inc. Raises $2.3 Million in Equity Funding
Friday, October 7, 2016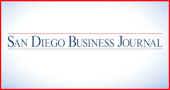 Local biotech Kurin Inc. has reported raising $2.3 million in an equity offering launched Sept. 23.
In an Oct. 7 filing with the U.S. Securities and Exchange Commission, the firm said a total of 28 investors chipped in to the round. The money raised is about 77 percent of the $3 million offered when the round began late last month.
The form was submitted by Bobby Rogers, president and CEO of Kurin. Founded just last year, the startup was launched by the executive team of Ivera Medical (which was acquired by 3M Corp. last year).
Ivera made I.V. port connector caps, sold under the Curos brand, which are used to act as a barrier to contamination on devices that provide access to I.V. lines. The products complemented 3M's vascular access products.
Kurin's website states that "the creators of Curos have reunited as Kurin to introduce the next triple threat medical innovation."