Ionis Pharmaceuticals, Texas Cancer Center to Partner
Monday, May 23, 2016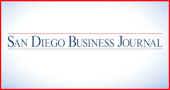 One of San Diego County's biggest drugmakers is teaming up with a cancer center in Texas to tackle new strategies in oncology.
Carlsbad-based Ionis Pharmaceuticals Inc. and The University of Texas MD Anderson Cancer Center will make combined use of Ionis' antisense technology with the institute's cancer expertise.
Ionis and MD Anderson will work together to validate novel cancer targets based on human genomic data. Ionis will lead the drug discovery efforts and MD Anderson will lead development activities all the way through clinical proof of concept. Following clinical proof of concept, Ionis and MD Anderson plan to identify a partner to complete development and to commercialize each drug with Ionis leading business development efforts.
"This alliance enables Ionis and MD Anderson to focus on their respective areas of expertise, thereby facilitating rapid progress in moving each drug through the clinic," said Sarah Boyce, chief business officer at Ionis Pharmaceuticals, in a statement.
Ionis Pharmaceuticals, which has a market cap of $4.2 billion, is developing dozens of drugs with its antisense technology. The firm is currently partnered with several large pharmaceutical companies, including AstraZeneca, Bayer and Biogen.