Miniature Drone Takes Teaching Code to New Heights
EDUCATION: Co. Links Video Lessons to Operating New Consumer Product
Originally published March 17, 2016 at 1:08 p.m., updated March 17, 2016 at 1:08 p.m.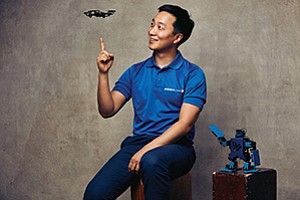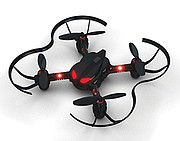 San Diego — Hansol Hong has a Kickstarter hit.
The owner and CEO of Robolink Inc. recently convinced the Internet community to give his company the funds to mass-produce a quadcopter about the size of a cocktail napkin.
Hong thinks his product, called CoDrone, is an ideal way to get people interested in writing computer code — particularly young people in elementary or middle school.
"I think it's a really effective way of teaching code while they're having fun," he said.
Hong said it could also be a boon to their teachers — particularly senior members of the staff who are not digital natives and now find themselves running after-school science clubs.
Robolink's Kickstarter campaign to manufacture CoDrone attracted about $205,000 of pledges by the time it ended March 6. The goal was $50,000.
Kickstarter backers were promised a discount on the first production CoDrones, which are expected to retail for $179.
Hong and his co-workers recently showed off their little quadcopter in their Sorrento Mesa office. It's about 5 inches square and weighs 1.3 ounces, so it doesn't pack a wallop if it flies into something. The four propellers have exterior shields. The drone's suite of sensors includes a camera, gyroscope, accelerometer, infrared sensor and barometer for altitude control.
The drone navigates with the help on an Arduino computer board that uses the C/C++ programming language. Users can send the drone on a pre-programmed route or fly it with a controller.
Those with no experience writing code need not worry. Robolink teaches the skill through a series of video lessons on YouTube. Each lesson is less than 10 minutes long, and it's baby steps at first. Early lessons are in taking off, pairing (that is, connecting to the controller) and stopping. Hong's plans are to expand the video library to 100 lessons.
On Campus
The 4-year-old business — which Hong said is profitable — has been vetting the product by bringing it into local schools. Robolink has offered robotics lessons at more than a dozen schools over the past three years. The business is also advertising a series of robot-themed camps this summer.
In the middle of Robolink's Sorrento Valley office is a drone obstacle course. It consists of five 18-inch hoops made out of plastic, all connected by a network of PVC pipe. Each hoop sits at a different elevation and is oriented at a different angle.
The object of the course is to program the drone to autonomously navigate through all five hoops. So far, Hong said, the best a person has done is get the drone through two hoops.
Prev Next
Page 1 of 2.