LRAD Corp. Names Activist Shareholders, CEO to Resign
Originally published March 14, 2016 at 3:56 p.m., updated March 16, 2016 at 2:59 p.m.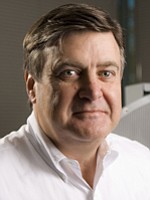 Activist shareholders named two directors to the board of LRAD Corp. and have achieved their goal of dismissing the company's CEO.
Rancho Bernardo-based LRAD (Nasdaq: LRAD) announced March 14 that it had settled with New York-based Iroquois Capital Management, which had threatened a proxy fight over the direction of the company.
LRAD produces audio devices that can send highly amplified sound a very long distance, serving military and other markets. Some media accounts describe the devices as "sound cannons." Some LRAD devices send highly directional sound. It also produces mass-notification devices that send sound out 360 degrees.
Under the deal reached March 11, Tom Brown will resign from the company on June 30 just short of his 10th anniversary in the CEO's job. The board has been increased from five to seven members and two Iroquois representatives — Scott L. Anchin and Daniel H. McCollum — will take directors' seats immediately. LRAD described Anchin as a restructuring professional. McCollum helps manage investments for Brown University in Providence, R.I.
Iroquois, which held about 7 percent of LRAD stock as of mid-January, said that the company was not performing well under Brown, further stating that it had lost confidence in Brown's leadership.
The board has begun looking for new CEO.
Brown joined the company as a member of the board in March 2006 and took the CEO's job in August of that year. He will leave both his executive job and his board seat. Under a separation agreement, LRAD agreed to pay Brown $566,500 — or two years of his annual base salary — on the day he steps down.
Brown has not been having a good year. He resigned from his job as chairman of the board of videogame peripheral maker Mad Catz Interactive in early February, following Mad Catz's disappointing earnings announcement.
LRAD plans to hold its annual meeting of stockholders on May 17, when the two new directors, Anchin and McCollum, will stand for re-election.
LRAD shares closed at $1.66 on March 14, up 2.5 percent from the previous trading day's close. The company has a market capitalization of about $53 million.