BIOTECH: RESMED'S EFFORTS IN INFORMATICS PAY OFF AS COMPANY'S VALUE CLIMBS
Rise and Shine
Originally published July 28, 2016 at 2:24 p.m., updated July 28, 2016 at 2:24 p.m.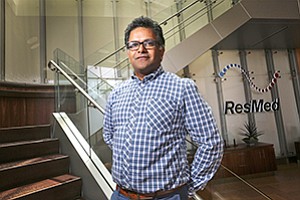 San Diego — ResMed Inc. is shoring up its position in the "internet of medical things," funneling massive resources into its digital health portfolio and watching its stock climb as a result.
The company, which employs 400 people locally, is a bit of a darling in San Diego's medical device sector; celebrated for sticking around in an economy where many growing life science firms choose to sell out. The company was founded in 1989 with only eight employees and now employs over 5,000 people worldwide. It's valued at $9.2 billion, making ResMed one of the largest public companies in San Diego.
Perhaps most telling, however, is the company's stock performance. In a down market, when nearly all San Diego biotechs and device makers are suffering losses in valuation, ResMed's stock has climbed 23 percent since January to over $65 per share recently. Over the past five years, the stock has risen 118 percent in total.
Although the company has been around for decades, ResMed is keeping things nimble at its Kearny Mesa headquarters — possibly the key to its success.
In a nod to the company's changing priorities, the firm's fourth floor was recently wiped clean and remodeled to accommodate ResMed's growing software development team. The new floor resembles a trendy tech startup, complete with Ping-Pong tables, an open concept layout, and fancy espresso machines that would charm even the snobbiest coffee addict. That's in stark contrast to the rest of the building, by the way, which is the perfect picture of corporate life: cubicles, walls, and, yes, offices with doors.
"We wanted to create a space that was fun and attractive to top tech talent," said Raj Sodhi, president of ResMed's informatics division.
And tech talent is what they're attracting. In droves.
Software Solutions
ResMed is best known for making machines that help patients breathe, but the company's medical devices are now high-tech products, constantly collecting data that's moved, crunched, and analyzed by software.
The company's tech department, called the health care informatics division, was made up of only a handful of employees just a few years ago. Today, the entire fourth floor of the building is dedicated to the informatics team. Although ResMed would not disclose the exact number of tech employees, it looks like close to 200 people work in this department (when counting clusters of desks throughout the space). And Sodhi said the tech team is already bursting at the seams. The company intends to redevelop another wing of the facility to accommodate more developers in the near future.
Prev Next