NuVasive's Healthy Q2 Earnings Beat Wall Street Expectations
Wednesday, July 27, 2016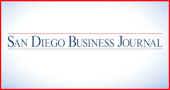 Medical device maker NuVasive Inc. reported a significant boost to the company's sales and revenue for the second quarter, topping Wall Street's expectations.
The San Diego firm reported profits of $30.2 million on sales of $236.2 million for the quarter, which amounts to a 194 percent bottom-line gain compared to the same period last year.
NuVasive's profit amounted to 57 cents per share, but when adjusted for one-time gains and costs amounted to 40 cents per share. Even so, this exceeded Wall Street's expectations. The average estimate of 11 analysts was for earnings of 36 cents per share.
The company also increased its full-year guidance, announcing that it now expects $962 million in revenue this year rather than the previous expectation of $928 million.
"(This represents an approximate) 19 percent increase over 2015 revenue of $811 million, getting us closer to that $1 billion mark sooner than we expected," CEO Greg Lucier said in an investor call.
In a prepared statement, Lucier said, "Our results were driven by strong growth in our international business, which benefitted from our continued revitalization efforts, and strength in our U.S. spinal hardware business, where adoption of our integrated Global Alignment platform drove momentum in sales of our procedurally integrated solutions. With this growth in our geographies and businesses for the first half of the year, and the addition of the Biotronic NeuroNetwork business, we are raising our full-year guidance for 2016."
Earlier this month, NuVasive said it closed the $98 million acquisition of Ann Arbor, Michigan-based Biotronic NeuroNetwork.
NuVasive, which makes medical devices related to spine surgery, said the acquisition of Biotronic will expand the company's offerings for the spine service line as Biotronic is a provider of monitoring services that help surgeons improve clinical outcomes of surgeries.
The acquisition is expected to immediately increase NuVasive's revenues, with a significant impact to the cash flow by next year, the company said. Biotronic brought in more than $50 million in revenue in 2015.
NuVasive is one of San Diego's largest public companies, with a market cap of $3.03 billion.