Patty Maysent Appointed CEO of UC San Diego Health
Thursday, January 21, 2016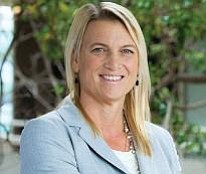 Patty Maysent has been named CEO of UC San Diego Health, effective immediately. She had held the position on an interim basis since former CEO Paul Viviano left in 2015 to run Children's Hospital Los Angeles.
Maysent is responsible for the performance and operations of UC San Diego Health, which employs more than 7,500 persons and has an operating budget in excess of $1.7 billion. She is the principal architect of its strategic plan, which concentrates on patient experience, clinical excellence, performance management and growth.
"I look forward to accelerating collaborations with local hospitals, physicians and providers to expand access to our tertiary and quaternary clinical services," Maysent said. "Patients in San Diego, Riverside and Imperial Counties do not need to leave the region to access world-class care."
Maysent brings more than 25 years of executive experience in hospital and health services to UC San Diego Health. She joined the university in 2012, and served in chief of staff and chief strategy officer roles to Viviano.
As chief strategy officer and interim CEO, Maysent developed strategic partnerships with Sharp HealthCare, Scripps Health, Tri-City Healthcare, El Centro Regional Medical Center and Eisenhower Medical Center. She also expanded both UC San Diego Health Care and Physician Networks.
Prior to UC San Diego Health, Maysent served in several executive roles, including CEO of St. Jude Medical Center in Fullerton, where she negotiated and built the St. Jude Heritage Medical Practice Foundation.
Maysent earned a bachelor's degree from Stanford University and master's degrees in business administration and public health from the University of California, Los Angeles.
Maysent serves on the board and executive committee of the Boys and Girls Club of San Dieguito. She is an avid swimmer, paddler and surfer.