Startup Empyr Partners With Yelp
Wednesday, December 14, 2016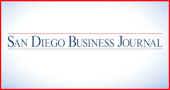 San Diego startup Empyr, which runs an online-to-offline ad marketing platform, has partnered with review website Yelp to allow the businesses listed on the site to offer users cash back discounts on in-store purchases.
Restaurants and other retailers with a physical presence are eligible to participate in the program, called Yelp Cash Back, Empyr said in a statement.
"An estimated $3 trillion in offline spending is driven by websites and apps in the U.S. each year, and now Yelp has created a loyalty program that closes the loop on local commerce," said Jon Carder, CEO and co-founder of Empyr.
Participating companies get better visibility on Yelp and pay for it only when a customer completes a transaction with a linked debit or credit card, the company said.
For customers, the program provides "a great incentive to shop locally," said Chad Richard, senior vice president of business and corporate development at Yelp, in the statement.
About 8,000 eateries and stores in the U.S. – including some in San Diego – are using Yelp Cash Back, and more businesses are joining daily, Empyr said.