Carlsbad Mall Renovation Brings in Cheesecake Factory, Yard House
Friday, December 2, 2016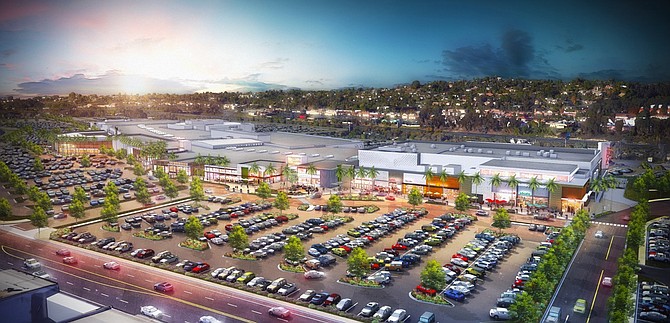 The Cheesecake Factory and Yard House restaurants, along with clothing retailer Zara, will join the tenant roster in 2017 as part of an extensive renovation currently underway at The Shoppes at Carlsbad, mall operator Rouse Properties announced.
New York-based Rouse purchased the mall, formerly known as Westfield Carlsbad, from Westfield Corp. for $170 million in November 2015. A Rouse statement said construction is now underway at the property, at 2525 El Camino Real near state Route 78, with completion of multiphase renovations expected by the end of 2017.
Renovations at the two-story, 46-year-old mall will include changes to the property's ceilings, tiles and flooring, with a streetscape being designed to unite the center's indoor and outdoor elements. Rouse is bringing in new full-service and fast-casual dining options and creating plaza areas with trees, outdoor seating and ambient lighting.
Rouse has not divulged expected costs for the renovation. "It is a significant spend that the residents of Carlsbad will appreciate," Rouse CEO Brian Harper said. "We asked what people want to see, we've listened and we are going to deliver."
Officials said fashion retailer Zara will occupy a 30,000-square-foot space on the mall's lower level, near a new Dave & Buster's entertainment center that will be opening in early 2017. The Cheesecake Factory will also be located on the lower level, across from Zara.
Yard House, with a menu that includes numerous craft cocktails and beer taps, plans a 10,000-square-foot location for the Carlsbad mall, on the second level adjacent to Regal Cinemas. Zara, Cheesecake Factory and Yard House are slated to open at the end of 2017.
The Shoppes at Carlsbad currently houses more than 100 tenants, including Macy's and 24 Hour Fitness Super Sport. Recent openings included The Pizza Press, which debuted on Nov. 17.
Rouse Properties itself is owned by affiliates of Toronto-based Brookfield Asset Management, which earlier this year acquired Rouse's nationwide portfolio of retail properties for $2.8 billion.