Creativity is Key to Our Future Tech Workforce
Originally published December 1, 2016 at 1:32 p.m., updated December 1, 2016 at 1:32 p.m.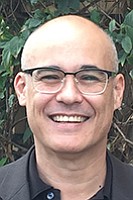 San Diego — Recent talk suggests San Diego's future as a frontrunner in the tech industry is here. As the city evolves into its predicted tech haven, much like Silicon Valley, will our workforce be up to snuff? To ensure our future workforce is ready to take the reins, the obvious answer is to squeeze STEM education into San Diego's youth — but that approach neglects a key element.
Good coding isn't the real reason why Google, Facebook and half the world's most powerful tech companies come from our neighbors up north. It's not math or science skills, either. Silicon Valley culture values creativity and boldness and encourages radical thinking, experimentation and risk-taking. Computer science is simply the language these professionals use to express their creativity.
Traditionally, education has largely focused on STEM (science, technology, engineering and math) to build a generation of tech pioneers with savvy skills for budding industries. While math- and science-based curricula are inarguably beneficial, today's education needs to go beyond the calculator to train a workforce of the future that's well-rounded and flexible beyond STEM skills.
Focusing only on STEM subjects prevents students from thinking outside the box — a skill more difficult to teach but indeed necessary to master in the business world. Non-STEM subjects, such as visual arts and theater, give students full range of imagination beyond standardized equations and tests. The arts push students to access creative thinking and build on skill sets needed to succeed.
Mining the Imagination
GoPro's CEO Nick Woodman, a University of California, San Diego alumnus, demonstrates how innovative thinking beyond math and science helped to build a tech company in Northern California. GoPro recently opened an office in Carlsbad that expanded its local presence from about 80 employees to an estimated 200.
The thriving company is the leader of the video-tech industry, and Woodman runs his company untraditionally. He took his visual arts skills to build a prominent tech company with a culture that advocates for creativity.
GoPro's unique office spaces, both in San Diego County and across the world, allow imagination to flow effortlessly. The company pushes its employees to regularly film themselves doing something they love — whether it's surfing or enjoying a tasty meal. These videos are shared to social media, showcasing the innovative minds behind the brand.
Other companies in San Diego have begun to follow suit, cultivating an exceptionally inventive work culture that raises the bar for standard business.
Prev Next