Angels Won't Take Flight to OliverMcMillan Site in Tustin
Friday, August 12, 2016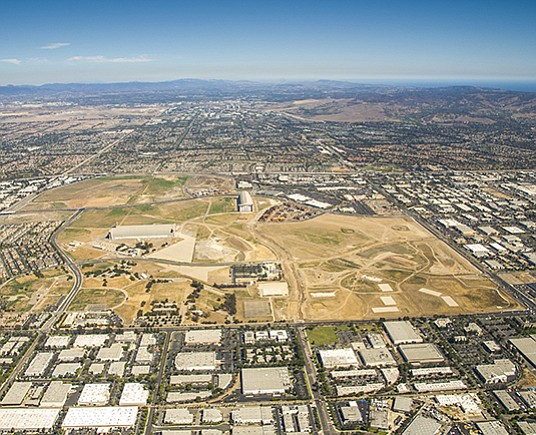 San Diego developer OliverMcMillan and team officials have apparently struck out in efforts to bring the Los Angeles Angels to the developer's proposed Tustin Legacy project in Orange County, according to published reports.
The Los Angeles Times reported that the developer and Angels representatives were unable to reach agreement on a deal that might have led to development of a new Angels stadium on land in Tustin eyed for a new project by OliverMcMillan, despite extensive talks over the course of recent months.
As a result, the Angels have renewed talks with the city of Anaheim about a renovation and lease extension at the team's current ballpark site, the Times reported.
In November 2015, the Tustin City Council approved an exclusive agreement with OliverMcMillan, which focuses primarily on mixed-use developments, to design a new urban-village-style project incorporating an existing historic former blimp hangar. The 123-acre site was formerly a Marine Corps air station.
In a statement on its website, OliverMcMillan said the proposed Tustin Legacy is its first large-scale project in central Orange County. It has entered into an exclusive negotiation agreement with the city of Tustin to prepare a viable concept and business plan, but the potential development cost of the project has not been announced.
In the statement, Tustin City Manager Jeff Parker said the land is one of the last developable sites in Orange County. OliverMcMillan officials said the planning process at Tustin will likely take approximately three years, due in part to the "existing physical complexity of the land to be reviewed."
CEO Dene Oliver said the developer sees an opportunity to create a "truly pedestrian-oriented place" with a mix of uses. The former Marine Corps station was transferred to local government entities in 2002, and the city is aiming for a master-planned community with residential, retail, open-space and other elements.
Headquartered in downtown San Diego, OliverMcMillan was founded in 1978 by Oliver and Chairman Jim McMillan. The company said it has designed, developed and manages more than 8 million square feet of mixed-use projects, with a value exceeding $3 billion.
The company owns several San Diego County properties and has numerous projects in various development stages nationwide, in cities including Nashville, Denver, Atlanta and Honolulu.