CO. GETS GOOD DISTRIBUTOR, LOCKS IN KEY SUPPLIER IN CHINA
Kombucha Brewer May Give 'Healthy Buzz' New Meaning
Originally published April 28, 2016 at 2 p.m., updated April 28, 2016 at 2 p.m.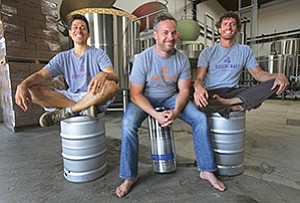 San Diego — Healthy booze is in many ways an oxymoron, but a new craft brewery in Chula Vista says its alcoholic drinks may come with a wholesome upside.
A newcomer to the South County brewing scene, Boochcraft makes a juice-tea product that's as potent as the average craft beer, boasting an IPA-like alcohol by volume of 7 percent. It drinks a bit like an earthy mimosa, bottled and marketed like a craft beer.
Calling the brewery's product "beer," however, may be a stretch, according to Boochcraft co-founder and brew master Andrew Clark.
"It has no gluten, it has no hops, so it's technically not beer," said Clark, 36. "It's a high-alcohol kombucha."
Kombucha, a fermented tea, is today's trendy beverage of choice for the label-reading, yoga-pants-wearing crowd of health-conscious consumers. The beverage has a distinct and almost addictive flavor, and has been touted to aid in digestion, detoxify the body, and generally do good things for gut health.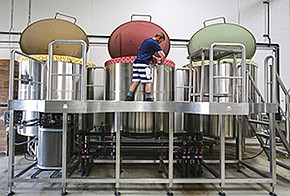 Sales of the fizzy beverage have skyrocketed in recent years, jumping from $128 million in 2009 to $529 million in 2014. At Whole Foods, kombucha occupies one-third of the refrigerated shelf space for functional beverages, drinks that are usually nonalcoholic and claim to provide a health benefit. It's stealing the limelight from other stars of the functional beverage market, like cold-pressed juice, smoothies, and coconut water. Even WalMart has lined its shelves with kombucha brew.
The popular beverage has always contained a small amount of natural alcohol, averaging between 0.5 percent and 1 percent. But as far as Boochcraft's founders know, kombucha with a beer-resembling high-alcohol content has never been sold commercially— until now.
'Happy Hour Meets Yoga Class'
Boochcraft combined the most popular elements of the healthy beverage market into one product: probiotics, organic cold-pressed juices, and herbal tinctures delivered in a boozy 22-ounce bottle.
"It's happy hour meets yoga class," said restaurant critic and food writer Troy Johnson in a recent review.
The appeal of the product is obvious, and it's rapidly being picked up by restaurants, bars and grocers in Southern California. Boochcraft, which is partnered with distributor Stone Brewing Co., is already sold in 200 locations including every Whole Foods in San Diego — quite the feat considering the company only launched its first line of products last month.
"We're very selective, and we like brands that are unique and different, and Boochcraft certainly meets those criteria," said Chad Heath, senior director at Stone Distributing. "It tastes amazing, the blend of the flavors is unique, and they have solid marketing behind them from a branding standpoint."
Heath said Stone, which distributes about 38 beer brands throughout the U.S., has already observed robust demand for Boochcraft's products in the first month of selling.
"We launched four brands at the same time we launched Boochcraft, and Boochcraft is performing at the top," Heath said. "So far, we're very pleased with them."
Boochcraft's co-founders said the company has sold 617 cases of the brew within its first 6 weeks, with half of those sales occurring in the last two weeks. The Booch brewery is currently configured to produce about 200 barrels a month. If the concept of high-alcohol kombucha takes off, there's room to add enough fermenters to triple capacity.
Starting Up
Boochcraft co-founder Adam Hiner, a 34-year-old yoga enthusiast and self-proclaimed health nut, is no stranger to brewing kombucha for business. Brothers-in-law Hiner and Clark brewed homemade batches of kombucha for the greater part of a decade, refining the craft until it was tasty enough to be sold in Hiner's San Diego restaurant, Local Habit.
"It sold really well at my restaurant, and people would come from all over San Diego County to buy growlers of it and take it home," Hiner said.
Hiner mulled over the idea of a kombucha brewery with his business-savvy friend Todd Kent, 38, who owns a retail gardening store with locations across the U.S. Together with their "mad scientist and boochmaster" Clark, the three funded and launched Boochcraft in 2014. Nearly two years of complex R&D and brew mastery later, the company came out with four flavors to start: Grapefruit Hibiscus Heather, Ginger Lime Rosehips, Grape Coriander Anise, and Tumeric Tangerine Ginger.
Special Ingredients
The brew masters at Boochcraft are slaves to quality, sourcing all of their organic, seasonal ingredients from local farmers (aside from the tea, which Clark says comes from "the misty mountains of Eastern China," where Boochcraft recently bought the entire harvest of Chin Family Farms).
"If you're going to drink alcohol, you might as well drink the best possible ingredients you can get your hands on," Clark said. "Our ingredients are all medicinal and hand-selected to prevent different ailments."
For example, in the Grapefruit Hibiscus Heather blend, grapefruit was chosen for its high level of vitamin C, and hibiscus for its blood-pressure-lowering properties. The Ginger Lime Rosehips blend is also loaded with vitamin C, while offering anti-inflammatory, immunity-boosting properties.
The presence of alcohol does not deplete the kombucha's health properties, Kent and Clark said. In fact, it may actually help.
"The specific bacteria strain we're using can live in up to 20 percent alcohol," Clark said. "And the beneficial acids never denature, no matter what the alcohol level is. Those acids feed the good bacteria in your gut."
And feeding that bacteria is important. Largely responsible for the critical functions of the body's digestive and immune systems, good bacteria in the gut can affect the body's vitamin and mineral absorbency, hormone regulation, digestion, vitamin production, immune response, and ability to eliminate toxins.
"All the way back in antiquity, medicines came in the form of tinctures — herbs steeped in alcohol," Clark said. "Alcohol acts as a carrier for beneficial nutrients into the body, and alcohol can penetrate into cells in the body better."
But let's be real, Hiner said, too much alcohol is never good for you.
"If you drink 10 bottles of Boochcraft, you're going to be overdosing on alcohol and that's not good," Hiner said. "But the alcohol is not killing the vitamins, it's not killing the nutrients, and the probiotics are thriving in that environment."
So for one or two pints of bubbly Booch booze? Drink on.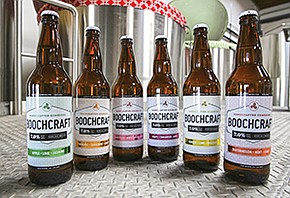 BOOCHCRAFT
Founders: Todd Kent, Andrew Clark, Adam Hiner
Revenue: Not disclosed
No. of local employees: 7
Investors: Founder-funded, friends and family
Headquarters: Chula Vista
Year founded: 2014
Company description: Craft brewery making high-alcohol kombucha
Key factors for success: Kombucha is a popular and growing beverage category, and Boochcraft is one of the first to market with a high-alcohol version