SDSU to Award Honorary Degrees to Susan Salka and Irwin Zahn
Monday, April 18, 2016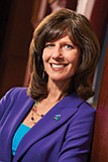 San Diego State University announced April 18 it will award honorary doctoral degrees to local health care executive Susan Salka and engineering entrepreneur Irwin Zahn.
Salka and Zahn will be honored during San Diego State's commencement ceremonies on May 13 and 14.
Salka, president and chief executive officer of AMN Healthcare Services Inc., will receive the honorary degree of Doctor of Humane Letters from the university's college of business administration on May 13.
Salka guided AMN Healthcare, a health care staffing firm, through acquisitions of more than 20 companies and supports a number of nonprofits, according to a news release from the university. She is a member of SDSU's Campanile Foundation Executive Committee and is a former member of the College of Business Administration Dean's Advisory Board. She received the Monty Award for Distinguished Alumni in 2010.
Zahn, president and chief executive officer of the nonprofit Moxie Foundation, will receive the same honorary degree, the Doctor of Humane Letters, from the university's college of engineering on May 14. Zahn gave the engineering college $700,000 for an on-campus business incubator and $5.1 million from his private foundation to support students and staff in finding bold innovative solutions to global challenges in 2012 and 2015, respectively.
He founded General Staple Co. in 1954 in New York City, sold his business in 2011 and then started the Moxie Foundation, a private grant-making organization that supports educational and nonprofit institutions. He is a member of the university's college of engineering dean's advisory board and his former electronic parts supplier company, Autosplice Inc., employs SDSU alumni.