DEFENSE: THE PENTAGON CASH FLOW IS KIND TO SOME COS., BUT THE SPECTER OF DEFENSE BUDGET CUTS STILL LOOMS
Opposing Forces
Originally published October 15, 2015 at 3:19 p.m., updated October 15, 2015 at 3:19 p.m.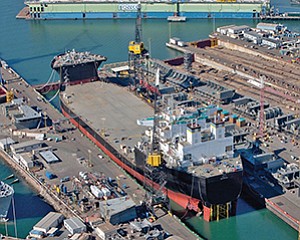 continued — Northrop's new deal, announced in the final hours of the fiscal 2015, covers development, modernization, retrofit and sustainment of all varieties of Global Hawk aircraft through 2025. The contract announcement offered few specifics, using general terms such as "technical refresh." The indefinite-quantity, indefinite-delivery deal has a ceiling of $3.2 billion.
Northrop also had a large overseas sale brokered by the Pentagon and announced in December. The government of South Korea plans to buy four Global Hawks for $657.4 million. Included with the Block 30 aircraft are sensors, two spare engines and ground control elements. One analyst said the three-and-a-half-year deal likely includes training and image-processing services. Work is scheduled through 2019.
Other Asian countries have expressed interest in Global Hawk and Triton, its seagoing variant.
Making Waves: Ships and Radios
San Diego County companies also saw large contracts for ships and radios.
In June, the U.S. Navy signed a $498.1 million deal with General Dynamics NASSCO to buy the fourth in a series of ships to support expeditionary fighting forces. The ship is built mostly along the lines of the first ship, the USNS Montford Point. Work is expected to be completed by 2018. The General Dynamics (NYSE: GD) unit was to formally kick off Ship No. 4's construction on Oct. 14.
To the north in Carlsbad, ViaSat Inc. pulled in two electronics contracts collectively worth almost $1 billion over five years. The deals cover the production, development and maintenance of MIDS radios. The electronics go aboard a variety of U.S. aircraft and ships, as well as aircraft and ships from two dozen U.S. allies — plus NATO. The jam-resistant radios let pilots and commanders speak with one another, and they let them exchange data, including battlefield information.
ViaSat (Nasdaq: VSAT) received a deal for MIDS JTRS software-defined radios in May. It received a deal for MIDS low-volume terminals in August. The indefinite-delivery, indefinite-quantity contracts have ceiling values of $478.6 million and $514.3 million, respectively.
Both deals were awarded by the Navy's information technology command, SPAWAR, aka the Space and Naval Warfare Systems Command. MIDS stands for Multifunctional Information Distribution System, while JTRS stands for Joint Tactical Radio System.
Also getting a boost in fiscal 2015 was Cubic Corp. (NYSE: CUB), which could make as much as $500 million over the next decade from a deal from the Defense Threat Reduction Agency. The agency, based at Fort Belvoir, Va., focuses on countering weapons of mass destruction, including chemical, biological, radiological, nuclear and high explosives. Cubic's indefinite-quantity, indefinite-delivery deal will support training and builds on Cubic's 15 years of experience with the military office. The San Diego company has enlisted 13 subcontractors to help it during the years ahead.