Elcelyx Therapeutics Raises $40 Million in Series E Round
Thursday, October 1, 2015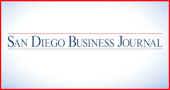 San Diego-based Elcelyx Therapeutics announced Oct. 1 that it has secured $40 million in a Series E financing.
The announcement comes after the company received official guidance from the FDA for late-stage trials of its oral drug candidate, a delayed-release formulation of metformin. The drug is under development to fill the unmet needs of the 40 percent of type 2 diabetes patients who cannot currently use metformin due to contraindications or poor tolerability.
The proceeds of the round will fund a large Phase 2b, dose-ranging clinical trial, according to a recent news release.
The financing was led by Hong Kong-based global private equity firm Sailing Capital and Clough Capital Partners L.P., a Boston-based global investment management firm. Elcelyx's existing investors Morgenthaler Ventures, Kleiner Perkins Caufield & Byers, Technology Partners, and GSM Fund LLC also participated in the round.
Read more about Elcelyx in the October 12 edition of the San Diego Business Journal.