LEADERSHIP: MILLENNIAL WOMEN BLEND WORK, IDEALS AND PASSION INTO CAREERS
Changing The Roles
Originally published November 12, 2015 at 11:50 a.m., updated November 12, 2015 at 11:50 a.m.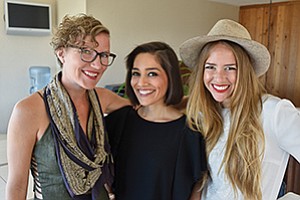 San Diego — Sitting in the corner of a chocolate shop in Encinitas, four millennial women crowd around a small table. They are schooling me on everything from Maslow's Hierarchy to the prevailing gender bias in corporate America. They interrupt each other often (and enthusiastically) as cups of hot chocolate teeter in their gesturing hands.
This small sampling of San Diego women perfectly represents the data collected on millennial women over the years. They are bold, ambitious, well-educated and unabashedly feminine. And they are unyielding on their place in the workforce.
Often cast with their male counterparts in the generation of industry-disrupting twenty-somethings, it's easy to forget that millennial women — separate from the whole — are a force to be reckoned with.
This generation of women, ages 18 to 34, has entered the workforce in droves over the last decade, slowly nudging the scale toward equal gender representation in business. Pew Research reported earlier this year that millennial women are not only graduating college at a much faster rate than their grandmothers, but they've also begun to outpace men in earning bachelor's degrees. This influx of highly-educated females may be a sign that the wage gap between women and men will continue to narrow, albeit slowly, according to Bloomberg Business.
As millennials flood the labor market, their unconventional qualities are being noted by employers and market researchers. This generation of 80 million people (half of whom are women) have $200 billion in annual buying power, making millennials the focus of piles of industry research.
Market insights have shown that growing up as the first generation with access to the Internet (from diaper days to adulthood) has shaped millennials into one of the most dynamic subpopulations in history. And their take on business — including women's role in it — is fundamentally different than previous generations.
Internet Shapes Millennials
Lauren Avenius, 32, swirls her hot chocolate as an extra-large dose of caramel whipped cream threatens to spill over. Avenius is a senior consultant for the high-tech and aerospace industries, a gig she earned after leading internal innovation at Sony Corp. She recently launched a co-working space, consultancy and event management company called Innovators Collective with her business partner Amber Brandner, 30, giving them both the flexibility to frequent Chuao Chocolatier regularly. Their "second office," they call it, laughing.
Avenius and Brandner are passionate about young women in business, and are both involved with Global Shapers, a network of entrepreneurial and socially engaged young leaders connected through city-based hubs across the world.
Prev Next