SDSU, USD Partner on Program Focused on Life Sciences Industry
Thursday, June 18, 2015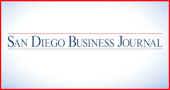 San Diego State University College of Sciences and the University of San Diego School of Law are partnering on a new program that prepares students for upward career mobility in the growing life sciences industry.
The six-course joint Advanced Certificate in Intellectual Property and Regulatory Affairs program begins this fall to help students build professional skills that employers are seeking in science, law and business.
This certificate provides an interdisciplinary approach to expand the knowledge base of life science professionals working to translate scientific discovery into commercial products.
"The innovation economy is central to our region," SDSU President Elliot Hirshman said in a statement. "Life sciences companies already employ 45,000 people in San Diego County, and this sector is growing with high-wage jobs. These companies need employees who can work within the complex IP and regulatory framework necessary to get products to market. Our joint program will give students these skills, benefiting them and our entire region."
Courses will be on campus at USD School of Law and online through SDSU. The program is administered through SDSU's College of Extended Studies.