BIOTECH: ADDS STAFF, UPLISTS TO NASDAQ PRIOR TO PHASE 2
Biotech Prepares Financially, Clinically
Friday, June 5, 2015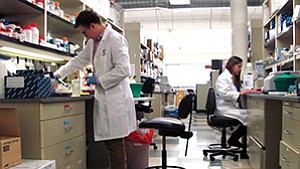 OncoSec Medical Inc., a public biotech company that's operated largely under the radar in San Diego, has uplisted to the Nasdaq in a move to attract investors with more weight.
The company was previously listed on the over-the-counter market, an exchange that hasn't earned the same credibility as major players on Wall Street such as the New York Stock Exchange and Nasdaq. OTC stocks, often called penny stocks or pink sheets, have a reputation for being risky. And OncoSec wants to up its game.
"While we've experienced a lot of growth over the last year, we haven't been able to get recognition on the marketplace because trading on OTC limits your investors," said OncoSec's co-founder and CEO Punit Dhillon. "Being on the Nasdaq heightens our credibility and broadens our base of institutional investors."
The company held a 1-for-20 reverse stock split in May to prepare for the uplisting, which increased OncoSec's share price to about $6 per share from pennies and dimes. Note that the reverse stock split doesn't actually up the company's value, but reduces the number of shares outstanding.
Growth Despite Challenges
For a biotech, OncoSec has grown quite rapidly over the last year. Its employee base more than doubled from 24 in January 2014 to 55 employees today.
Since its inception in 2011, Dhillon, 34, has grown the company from a $20 million market cap value to nearly $74 million, and raised $74 million in working capital for the company to date. Today, OncoSec has a cash runway of almost two years, and multiple clinical programs to keep it busy.
Still, OncoSec has found it difficult to climb the charts. The company's stock has declined about 35 percent over the year, and in early May the company recorded a new 52-week low, with its stock trading at $0.26 per share.
Dhillon said the lack of traction was primarily due to the market in which the company was trading.
"True valuation is never reflected until we get an exit opportunity," Dhillon said. "Everything in-between is just noise."
Fingers Crossed
While OncoSec has struggled to receive recognition in the marketplace, new developments in cancer research indicate the company might be on the right track for a lucrative breakthrough therapy.
OncoSec's main game is to increase the effectiveness of immunotherapy, which is a way to treat illness by stimulating the body's own immune system.
Findings presented at the American Association of Cancer Research conference in April recognized immunotherapy's effectiveness in treating cancer, and projected that it would be the standard of care in the near future. Science magazine also announced in the same month that immune checkpoint therapy had joined the ranks of surgery, radiation and chemotherapy as a pillar of cancer treatment.
Prev Next