Regulus CEO Apruptly Resigns; Chief Science Officer Also Leaving
Wednesday, June 3, 2015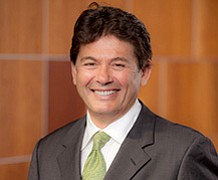 Kleanthis Xanthopoulos, who has served more than seven years at the helm of San Diego microRNA drug developer Regulus Therapeutics, unexpectedly resigned as CEO and from the company's board, according to a statement from the company.
Xanthopoulos is leaving "to pursue investment opportunities in the biotechnology industry," Regulus said.
Chief Scientific Officer Neil Gibson is on his way out, too, leaving former Chief Medical Officer Paul Grint in the CEO spot.
The turnover comes at a pivotal point for Regulus, which is expecting crucial data on the microRNA hepatitis C therapy RG-101 later this year.
Xanthopoulos' surprise exit alarmed investors already wary of RG-101's rollercoaster clinical path so far, sending Regulus' shares down more than 20 percent.
The biotech, formed in 2007 with microRNA assets from Isis Pharmaceuticals and Alnylam Pharmaceuticals, is also working on preclinical candidates for cancer, fibrosis and metabolic disease alongside Big Pharma partners including GlaxoSmithKline, Sanofi and AstraZeneca.