Maritime Museum Launches Newly Built Replica of San Salvador
Thursday, July 23, 2015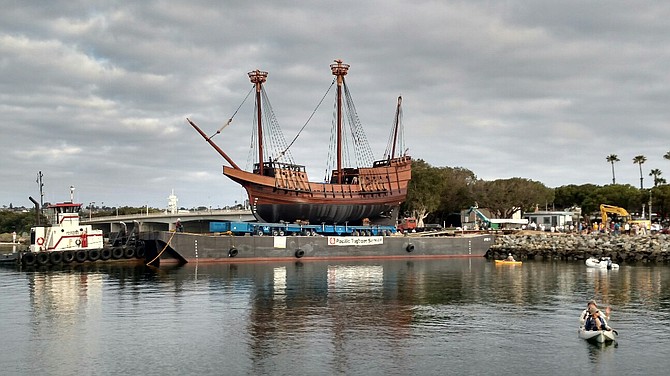 The Maritime Museum of San Diego recently launched a full-sized, functional replica of explorer Juan Rodriguez Cabrillo's 16th-century Spanish sailing ship, known as the San Salvador.
The replica was constructed at San Diego's Spanish Landing Park as part of a $6 million, donor-funded project that began in 2011, with work done primarily by the museum and approximately 500 local volunteers.
Museum officials said local crews transferred the 150-ton replica ship onto a self-propelled trailer donated by Marine Group Boat Works, then placed it onto a shallow draft barge for transit to Marine Group's boatyard in Chula Vista.
The San Salvador will remain at the yard until its debut on Labor Day weekend at the Port of San Diego's 2015 Festival of Sail, hosted by the Maritime Museum.
The original San Salvador brought Cabrillo to what is now known as Point Loma in 1542. It is believed to be the first European ship to explore the Pacific coast of what later became the United States.
Officials said the recently completed replica measures 92 feet long by 24 feet wide, matching Cabrillo's original ship in size. Construction materials came from sites around the world.
Following a sail up the California coast, the San Salvador will eventually join the North Embarcadero waterfront museum's fleet of existing historic vessels, which includes the world's oldest active ship, the Star of India.