BEVERAGE: SUJA'S JUICES FIND A MARKET THIRSTY FOR ITS FLAVORS
Hitting The Spot
Friday, February 13, 2015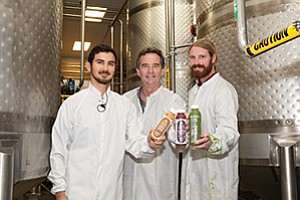 From the borrowed attic space of a nightclub to the sprawling manufacturing facility in Miramar, Suja Life LLC has grown from a two-man operation to the fastest-growing beverage company in the nation.
The San Diego-based company specializes in healthy bottled juices, responding to the massive consumer demand for healthful and convenient foods. Gone are the days of the sugary soda; enter the Suja — a cold-pressured, organic fruit and vegetable juice made with nongenetically modified plants.
In less than four years, Suja has grown from a meager $700,000 in annual revenue to $42 million last year and an estimated $70 million this year. Forbes has named Suja the second most promising company in the nation, and the fastest-growing beverage company in America.
The juice company has grown so rapidly that it recently raised $20 million to fund expansion in a star-studded financing round with contributions from Leonardo DiCaprio, Jared Leto and Sofia Vergara.
Although the company is in the spotlight today, Suja has very humble beginnings in a beach bungalow near the San Diego shore.
Catching the Wave
A predecessor to Suja, Elevated Nutrients, was founded in 2011 by surfer dude-turned-entrepreneur Eric Ethans, 31, and his friend Annie Lawless, 27, a law school dropout turned yoga instructor.
Growing up with celiac disease — an inability to process gluten — Lawless had been supplementing her nutrition with fresh juice since she was a teenager. One day, Ethans walked into the yoga center with a bottle of homemade green juice. They soon developed their own small operation, selling homemade juices to fellow yoga students.
Ethans is a self-taught chef, and helped craft interesting combinations of fruit and vegetable juice with exotic ingredients such as camu camu, lavender and cayenne. Customers became hooked on the tasty combinations, fueled by the bonus that the juices were healthful, fresh and organic.
The two grew their team to 10 part-time employees, and made juice out of Ethans' beach bungalow in La Jolla. The team sold coolers full of fresh juice made from produce purchased at Whole Foods, bottled in glass with a three-day expiration date. At the peak of the juice-fasting hype, the two guided customers through week-long cleanses, stocking their patrons' refrigerators with ready-made juice.
A chance encounter with James Brennan, a restaurant and nightclub entrepreneur, landed Ethans and Lawless with a more functional headquarters — the third floor of one of Brennan's San Diego nightclubs.
Brennan, a smooth-talking New Yorker with resources and connections to boot, became hooked on the juice when his pregnant wife became an avid customer.
"I was pretty intrigued by something that cost 11 bucks and didn't have vodka in it," Brennan told Forbes last year.
Brennan began a cleanse of his own, hauling glass bottles of dark green juice to his meetings at the Young Presidents' Organization — a network of chief executives and entrepreneurs. There, his friend and sometimes business partner, Jeff Church, teased Brennan for falling victim to the juice fad.
"I gave him a lot of grief," Church said with a laugh. "I said, 'how long are you going to drink this god-awful green stuff?'"
Finally, Brennan convinced Church to try the Green Supreme juice — a popular Suja combination made with apple, kale and lemon.
"For me to drink a green juice with kale in it would be unheard of, but it stopped me in my tracks," Church said. "I just absolutely loved it. I thought at that time, 'if I could like this drink, then anyone in America could like this drink.'"
Brennan introduced Lawless and Ethans to Church, a serial entrepreneur and Harvard Business School grad, and the founders decided to bring him on as chief executive officer — a decision that led to the company's large-scale success.
Church has a history of buying and building businesses. He spent 10 years helping to turn around Erico International Corp., a Cleveland-based maker of industrial electrical equipment. His equity stake rocketed in value from $100,000 to a couple million by the time he left in 1998.
He moved to Los Angeles that same year and bought Aztec Concrete Accessories Inc. for $13 million, and sold it a couple years later — giving investors an eightfold return, he said. Church also led the acquisition and turnaround of Lynx Grills Inc., a manufacturer of gas grills, and sold the company in 2006, generating sevenfold return on investor capital.
Church co-founded NIKA Water Co. in 2009, a social enterprise that donates 100 percent of its profits to clean-water projects and poverty-alleviation projects around the world. It is his work with NIKA that led to a working relationship with Whole Foods — a connection that may have been the reason for Suja's success.
In May 2012, the four co-founders created Suja Life LLC, and Ethans and Lawless discontinued the home delivery business, Elevated Nutrients.
Making the Connection
Church managed to get bottles of Suja Juice in front of Whole Foods' buyers in Southern California in 2012.
"It usually takes six months to get an appointment with a buyer, and they are typically difficult meetings that only last five minutes," Church said. "But this time we took glass bottles of juice with no labels, and they absolutely loved it."
After building relationships with a handful of Whole Foods regions, the grocer's corporate office in Austin, Texas, contacted Suja and asked the juice company "to be a national brand."
With massive orders from Whole Foods, Suja began working 24/7 to meet the demand. The company had moved from the 100-square-foot ice closet in Brennan's nightclub to a 2,000-square-foot manufacturing facility. When the relationship with Whole Foods flourished, Church decided the company needed even more space and higher capacity.
Today, Suja is housed in two separate facilities in Miramar totaling 65,000 square feet and employing over 200 people.
Consumers Demand Quality
Suja is appealing to the growing population of health-conscious consumers with its unique form of preservation called high-pressure processing, or HPP. Using this method, BPA-free plastic juice bottles are placed in a hyperbaric chamber filled with water, then subjected to pressure of 87,000 pounds per square inch — about five times the pressure found at the deepest part of the ocean.
The pressure will destroy harmful cell-based pathogens such as e-coli and salmonella without compromising the nutrients, enzymes and vitamins — which are chemical-based. The more traditional form of bottled juice preservation involves heat pasteurization, which destroys pathogens, nutrients and everything else — making bottled juice little more than sugar water.
Raw food enthusiasts argue that HPP'ed juice will never be as fresh and 'alive' as a made-to-order cold-pressed juice. In fact, Ethans and Lawless never considered selling through distributors as their product would expire before it reached the grocery shelves. However, the company's adoption of HPP provided the best option to get the freshest possible bottled juice to consumers. HPP extends the shelf life of the juice from three days to 45 days without compromising the chemical-based nutrients.
Strategic Relationships
Suja's founders didn't stop at preserving the nutrients; they also wanted to ensure their products were made with high-quality ingredients.
Suja owns its organic produce distributor and maintains a strategic relationship with Jack Brothers Farm in El Centro. The juice company receives more than 500,000 pounds of organic produce from its farms every week and can contract-grow specific fruits and vegetables on demand. While Church said the company (Suja) tries to get all its produce in Central and Southern California, the company has to go abroad to get exotic ingredients such as coconut from Thailand.
Church said the company canceled plans to build a new factory in Philadelphia, deciding the operation across the country could compromise the quality of the product.
"We wanted to be closer to our organic supply chain here in Southern California," Church said. "If we opened the factory in Philadelphia, we would have been shipping produce across the country. Centralizing our location also allows us to have the best quality-control procedures."
The Future
The juice is now on the shelves of multiple grocers and retail markets nationwide, with 20 percent of Suja's business coming from Whole Foods, with sales at Target and Costco following closely behind.
Today, Suja makes three lines of juices from fruit, vegetables and exotic ingredients. The Suja Classic sells for $7.99 a bottle; a set of six health-intensive flavors can be used to substitute food in a juice cleanse. The less radical Suja Elements retails for $4.99, and has nine flavors more palatable to the general population and considered snacks or supplements to a normal diet. The newest line, Suja Essentials, is the main brand of the company — both palatable and affordable at $3.99 per bottle.
"Our mission is to have a cold-pressured organic juice available to every consumer in America," Church said. "At $7.99 for the Classic, it's really not possible. At $3.99 for the Essentials, it really is."
Church said the juice company's pioneer product, the Suja Classic, is very popular among Whole Foods consumers and even celebrities. Suja uses the Classic as a research and development incubator, testing out new combinations with an established customer base. The Suja Essentials, Church explains, is the company's scale driver.
"We can build a billion-dollar company at the Essentials price point," he said, "but we can't do it at $7.99."
Although Ethans is still involved in flavor combinations and taste profiles, the self-made chef and entrepreneur has mostly handed over the reins to Church. Co-founder Lawless is actively involved, and recently wrote a book called "The Suja Juice Solution" which publishes in April.
While Church and his team scale the business to the billion-dollar goal, the 200-person company is living the brand. With only five employees over the age of 40, Suja is thriving with millennial energy — surfing, doing yoga, running marathons and emulating its ancient Hindu namesake, "Suja," which means "a long and beautiful life."