BEVERAGE: SUJA'S JUICES FIND A MARKET THIRSTY FOR ITS FLAVORS
Hitting The Spot
Friday, February 13, 2015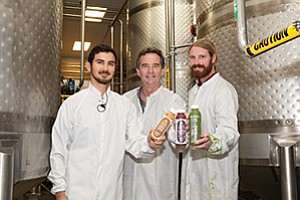 From the borrowed attic space of a nightclub to the sprawling manufacturing facility in Miramar, Suja Life LLC has grown from a two-man operation to the fastest-growing beverage company in the nation.
The San Diego-based company specializes in healthy bottled juices, responding to the massive consumer demand for healthful and convenient foods. Gone are the days of the sugary soda; enter the Suja — a cold-pressured, organic fruit and vegetable juice made with nongenetically modified plants.
In less than four years, Suja has grown from a meager $700,000 in annual revenue to $42 million last year and an estimated $70 million this year. Forbes has named Suja the second most promising company in the nation, and the fastest-growing beverage company in America.
The juice company has grown so rapidly that it recently raised $20 million to fund expansion in a star-studded financing round with contributions from Leonardo DiCaprio, Jared Leto and Sofia Vergara.
Although the company is in the spotlight today, Suja has very humble beginnings in a beach bungalow near the San Diego shore.
Catching the Wave
A predecessor to Suja, Elevated Nutrients, was founded in 2011 by surfer dude-turned-entrepreneur Eric Ethans, 31, and his friend Annie Lawless, 27, a law school dropout turned yoga instructor.
Growing up with celiac disease — an inability to process gluten — Lawless had been supplementing her nutrition with fresh juice since she was a teenager. One day, Ethans walked into the yoga center with a bottle of homemade green juice. They soon developed their own small operation, selling homemade juices to fellow yoga students.
Ethans is a self-taught chef, and helped craft interesting combinations of fruit and vegetable juice with exotic ingredients such as camu camu, lavender and cayenne. Customers became hooked on the tasty combinations, fueled by the bonus that the juices were healthful, fresh and organic.
The two grew their team to 10 part-time employees, and made juice out of Ethans' beach bungalow in La Jolla. The team sold coolers full of fresh juice made from produce purchased at Whole Foods, bottled in glass with a three-day expiration date. At the peak of the juice-fasting hype, the two guided customers through week-long cleanses, stocking their patrons' refrigerators with ready-made juice.
A chance encounter with James Brennan, a restaurant and nightclub entrepreneur, landed Ethans and Lawless with a more functional headquarters — the third floor of one of Brennan's San Diego nightclubs.
Prev Next