Beyster Family Donates Businessman's Papers to UC San Diego
Tuesday, December 22, 2015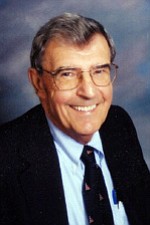 The late J. Robert Beyster and his employees were always discreet when discussing their business, Science Applications International Corp.
In the 1980s and 1990s, reporters could have told you that Beyster was involved in government work, but little else.
Over the next few years, however, scholars and the general public will get the chance to delve into the dealings of the enigmatic businessman, who died Dec. 22, 2014, at the age of 90.
The Beyster family has donated the businessman's papers to the University of California, San Diego library. They will become part of the Mandeville Special Collections.
The Beyster family has also supplied funds to help the library process the papers and put them on the Web. Library officials expect to make the collection available in 2017.
Beyster dealt with several secret programs, including nuclear weapons. The company worked with defense and commercial clients.
While discreet on many matters, Beyster was an impassioned and outspoken advocate for employee ownership of companies. SAIC stayed employee-owned for almost four decades before going public in 2006.
The Beyster collection includes correspondence, SAIC business records, committee meeting minutes and materials related to employee ownership, as well as records on a broad range of government-funded research and development.
Library patrons will be able to read about the Strategic Air Command during the Cold War, safety of the international space station, hull design for U.S. entries in the America's Cup race (one of Beyster's favorite pastimes was sailing), the clean-up of the Three Mile Island nuclear plant and commercialization of the Internet.
SAIC worked in a number of cutting-edge programs. Beyster's daughter, Mary Ann Beyster, said the papers will add to the Special Collections material on the history of science and innovation in San Diego.
J. Robert Beyster and his wife, Betty Beyster, have supported the local University of California campus since 1977.