Consultants: Convention Center Clients Prefer Contiguous New Space
Monday, August 31, 2015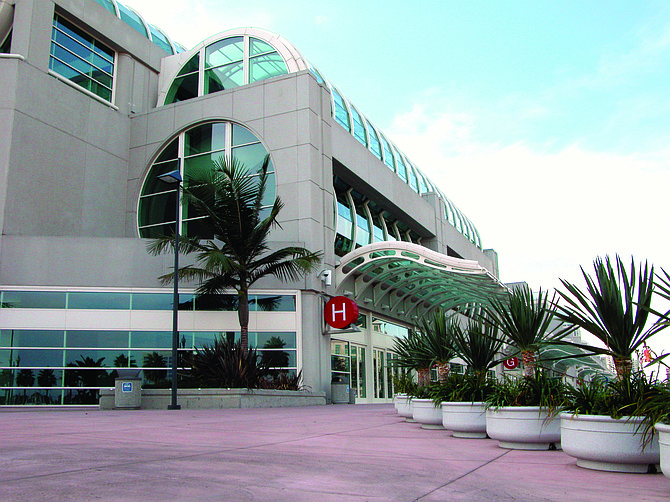 San Diego Convention Center clients prefer contiguous expansion space, though the city would also benefit from new space that is non-contiguous, according to results of a consultant's study.
"From an impact return perspective, the city should continue to pursue the contiguous option as opposed to a significant investment in a publicly-owned convention center located several blocks from the existing SDCC," said John Kaatz, a consultant with Conventions, Sports and Leisure International (CSL).
In a statement issued by city and convention officials, Mayor Kevin Faulconer said his administration will begin talks with the tourism industry, city council and other stakeholders to lay the groundwork for a contiguous project in 2016. That would likely take the form of a public ballot measure to approve funding.
A court last year struck down a hotelier-approved assessment on room bills that would have funded the bulk of a proposed $520 million expansion of the convention center.
Convention center officials earlier this year hired Minneapolis-based CSL to study options for expanding services at the center, including non-contiguous "campus" options to host events.
According to CSL's report released Aug. 31, consultants reviewed options including a non-contiguous East Village campus, that would generally be located between 12th and 16th streets, and K Street and Imperial Avenue.
The campus option would include 225,000 square feet of exhibit space, along with 80,000 square feet of meeting space and an 80,000-square-foot ballroom.
Consultants said the contiguous option would allow the center to add 210,000 square feet of exhibit space, 101,600 square feet of meeting rooms and 55,000 square feet of ballroom space.
However, CSL survey results show that there is "more positive interest in a contiguous option" among center clients for events that require up to 225,000 square feet of exhibit space.
"This likely reflects the appeal of the existing waterfront location, and uncertainty as to the walkable environment surrounding the campus option," the report said.