Rady Foundation Commits $100 Million to UC San Diego Management School
Tuesday, April 7, 2015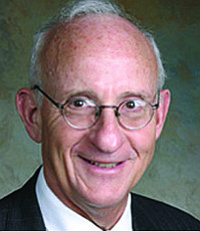 Local philanthropists Ernest and Evelyn Rady have committed $100 million to the Rady School of Management at the University of California, San Diego to help the school recruit and retain faculty and support other strategic priorities.
School officials said the future long-term funding will be donated through the Rady Family Foundation. The philanthropists previously helped establish the business school with a $30 million gift in 2004 and later contributed $5 million toward an expansion that was completed in 2012.
Ernest Rady, 77, is executive chairman of American Assets Trust Inc., a real estate investment trust based in Carmel Valley. Rady said helping the business school establish fellowships to attract top students is among priorities to be funded from the foundation, along with recruiting quality faculty to keep the school's programs competitive.
Robert S. Sullivan, dean of Rady School of Management, said the foundation's contribution is "the largest commitment in history to a business school of Rady's size and youth." He said funding from the Rady foundation will be crucial in helping the school compete against other older institutions like UCLA, UC Berkeley, Stanford University and others that have endowments exceeding $200 million.
Sullivan said Rady School of Management currently has about 150 students enrolled in its master's of business administration program, with an additional 55 in its new finance-focused master's program. The school also services several undergraduate programs at UC San Diego.
Ernest and Evelyn Rady have made previous large donations to local institutions including Scripps Health and Salk Institute for Biological Studies, and Rady Children's Hospital bears their name.