Excel Trust Buys Three Utah Retail Properties for $223 Million
Monday, September 29, 2014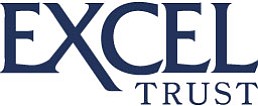 San Diego-based Excel Trust Inc. has purchased a portfolio of three Utah retail centers for approximately $223 million, according to the parties and brokerage company involved.
The seller was DDR Corp. of Beachwood, Ohio, according to Lucescu Realty, which represented the buyer. The properties acquired were the 682,279-square-foot Family Center at Fort Union in Midvale; the 779,439-square-foot Family Center at Taylorsville; and 150,667-square-foot Family Center at Orem.
As part of the transaction, Excel then sold the Taylorsville center to TriGate Capital of Dallas, for an undisclosed price. Lucescu Realty reported the total value of the deals involving the three properties at $225.6 million.
In their own statement, Excel and DDR officials said the transaction was aligned with DDR's desire to exit the Salt Lake City market, and Excel's goal of expanding its presence in a market where it has previously established a corporate and operating presence.
Excel Trust (NYSE: EXL) is a real estate investment trust headquartered in Rancho Bernardo. The company invests primarily in retail and related commercial properties.