Aethlon Announces Dengue Virus Treatment Agreement
Wednesday, September 24, 2014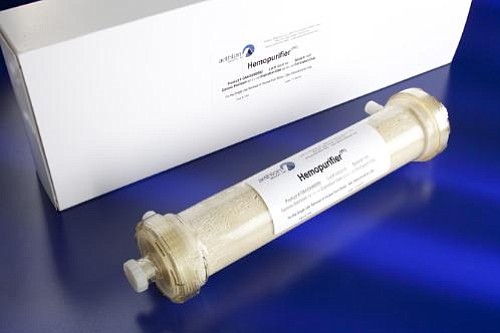 Aethlon Medical Inc., a San Diego-based therapeutic device company, announced that it has entered into an agreement with Qualtran LLC that would expand human clinical studies of Aethlon's Hemopurifier therapy to include individuals infected with dengue virus, a global health threat not currently addressed with approved drug or vaccine therapies.

The treatment of dengue virus represents a significant unmet need and serious global health challenge. At present, there is no approved cure or vaccination against dengue virus, which can develop into a lethal complication known as dengue hemorrhagic fever. The disease infects some 100 million people each year, according to the World Health Organization, and some experts put the number at three times that level. The number of dengue cases has been increasing worldwide in part because of urbanization and in part due to the ability of the mosquito that carries the disease to adapt for survival in more temperate zones.
The Hemopurifier is a therapeutic device that targets the rapid elimination of circulating viruses and tumor-secreted exosomes that promote cancer progression.
Aethlon disclosed that it will incorporate data from the proposed dengue treatment study into a Humanitarian Use Device submission, which provides an alternative FDA pathway for obtaining market approval for medical devices that address disease conditions that affect fewer than 4,000 individuals in the U.S. per year. Dengue also represents a disease condition where efficacy treatment studies in the U.S. are not feasible.
Qualtran is a contract research organization that previously originated and managed clinical studies of Hemopurifier therapy in HIV and HCV infected individuals at the Apollo Hospital, Fortis Hospital, Sigma New Life Hospital, and the Medanta Medicity Institute, all located in India. On behalf of Aethlon Medical, Qualtran also established a collaborative relationship with the National Institute of Virology that demonstrated the utility of the Hemopurifier to capture dengue virus. The NIV is the government of India's primary infectious disease research institute. As part of the dengue treatment agreement, Qualtran has agreed to establish multiple treatment sites and recruit thought leaders from the dengue field to establish consensus treatment protocols in advance of the 2015 dengue outbreak season.
On September 2, 2014, Aethlon (OTCQB: AEMD) disclosed that it had received internal review board approval to initiate U.S. clinical studies of Hemopurifier therapy based on an Investigational Device Exemption that was cleared by the FDA. The company is now preparing to launch the IDE approved feasibility study, which will contribute safety data to advance the Hemopurifier as a broad-spectrum countermeasure against chronic viral pathogens such as HIV and HCV, and high-risk bioterror or pandemic threats such as dengue and ebola virus.